"Steal My Girl" is the lead single off of One Direction's fourth studio album named "Four", which was released on November 17, 2014. The hype was so high for this album and I can safely say the album stood up to the expectations.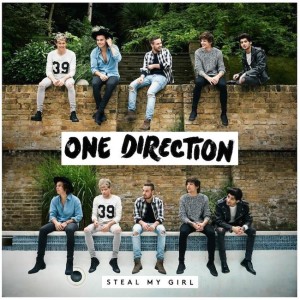 "Steal My Girl" is a very catchy song. On the first listen, I fell in love with the song. The words seemed to flow smooth, the tune is paced but not too much, the beat is very attractive. It has the perfect mix of music and it has the classical One Direction touch in it. I could say "Steal My Girl" is a classic One Direction song.
Buy One Direction's "Steal My Girl" Single on iTunes / Amazon
Buy One Direction's "FOUR" Album on iTunes / Amazon
"Steal My Girl" was released as a promotional single on September 29, 2014 and it quickly rose in music charts. After 12 weeks on Billboard Hot 100, this song is still ranked at 70. It peaked at position 12 when it was released. So basically it did it's job as a promotional single for the album "Four".

Lyrics-wise "Steal My Girl" does not really impress me. It has flow and nice mixture of words, but the lyrics are pretty direct and leaves nothing to imagination. It speaks about how the singer has been in love with his girl from a very young age and now that she is all grown up everybody is eyeing her, trying to 'steal' her from him. And the singer basically asks them to back away since she is already with her. This line is quite interesting too;
"I got it all
'Cause she is the one
Her mum calls me love,
Her dad calls me son,"

 
This means that the singer (boyfriend) is basically part of her family. Her parents have given them the approval. So there's nothing stopping them from being together now.
However these lines are just blunt and direct and a different wording of the same old story;
"

I don't exist
If I don't have her
The sun doesn't shine,
The world doesn't turn,"

 
Hence lyrically "Steal My Girl" would earn merely 6 out of 10 based on my opinion.
Watch "Steal My Girl" Official Music Video
The music video isn't the most creative work either. It is a typical boy-band music video, IMO. If you think otherwise do make a note of it in the comments section.
All-in-all I think "Steal My Girl" was/is a successful song as far as the One Direction band and the new album "Four" is considered. It won't be an immortal song (I doubt that's what they were aiming for anyway) and the song did it's job quite successfully.
Also kudos to One Direction for bringing the words to life to form a very catchy song and song writers Hector, Wayne Anthony / Drewett, Edward James / Bunetta, Julian / Ryan, John / Tomlinson, Louis William / Payne, Liam James.
Do let us know what you think about this song and make sure to leave a rating on the poll below.
[polldaddy poll=8552190]