We have known Mike Posner to be a flashy hip hop singer. But with this latest single, "I Took A Pill In Ibiza", we get to experience Mike Posner in a whole new light. He gets so personal and confessional on this new track. Don't let the title of the song fool you, this is not a song about how everything got awesome when he took a pill in Ibiza. It's the exact opposite.
Listen to "I Took A Pill In Ibiza" by Mike Posner
---
Download "I Took A Pill In Abiza" by Mike Posner on iTunes / Amazon
---
The song isn't something that needs to be analysed word-to-word, but there is an overall meaning behind it embedded in the lyrics. We will try ti get into the meaning Mike Posner intended through this song.
Song Meaning of "I Took A Pill In Ibiza" by Mike Posner
Mike Posner gets into the theme straight away;
I took a pill in Ibiza
To show Avicii I was cool
And when I finally got sober, felt 10 years older
But f*ck it, it was something to do
I'm living out in LA
I drive a sports car just to prove
I'm a real big baller cause I made a million dollars
And I spend it on girls and shoes
Everybody does drugs ('pills') to look cool, to fit in to get approval. There's no other justification for doing drugs. Mike says he did it to show Avicii that he was cool in a concert in Ibiza-Ibiza is known for it's crazy music festivals. The pill he took on that day got him hooked on it and it literally aged him. He says he is sober now. He was living in LA, and it was the thing 'to' do. doing drugs was like the main thing to do there. He lives a lavish life just to show off-just because he made a million dollars from his music. And he spends it on hookers and shoes.
But you don't wanna be high like me
Never really knowing why like me
You don't ever wanna step off that roller coaster and be all alone
You don't wanna ride the bus like this
Never knowing who to trust like this
You don't wanna be stuck up on that stage singing
Stuck up on that stage singing
All I know are sad songs, sad songs
Darling, all I know are sad songs, sad song

s
The chorus of the song is what really gives the punchline. He says that nobody should be like him. Nobody should be 'high' like him-where high has two meanings here-high from drugs or high on your mind thinking about the money you have. Roller coaster here refers to the fast paced ride you can enjoy when you have money and success. But when the money runs out ('stepping off the roller coaster'), you will not have anything left. You need to earn people, not money.
The last few lines tell us what the song is really about. The title of this song should have been "Sad Songs", but instead Mike Posner conveyed us to listen to "I Took A Pill In Ibiza" song. But in reality, it is really a Sad Song.
Watch Mike Posner Perform "I Took A Pill In Ibiza" Live
I'm just a singer who already blew his shot
I get along with old timers
Cause my name's a reminder of a pop song people forgot
And I can't keep a girl, no
Cause as soon as the sun comes up
I cut 'em all loose and work's my excuse
But the truth is I can't open up
Mike Posner says it is too late for him. It's too late to undo what has been done, but it is not late to adjust your future. I don't know which Pop song his name reminds of. Do you? Leave a comment. Mike Posner reveals about the short relationships he had throughout. He never got in to a long term relationship. He always finds an excuse to get rid of the girl after the one night stand. He says he has work to do. But the truth is he doesn't feel comfortable opening up to any of them. Opening up to be loved, is not Mike Posners's thing.
I took a plane to my home town
I brought my pride and my guitar
All my friends are all gone but there's manicured lawns
And the people still think I'm a star
I walked around down town
I met some fans in life I earned
They said tell us how to make it cause we're getting real impatient
So I looked em in the eye and said
Perfect ending to the song. Mike Posner leaves LA and visits his home town-Detroit, Michigan. All he could bring home was his guitar and his pride of making it in the music business. But his friends are gone, but the lawns are well kept. Things have changed in Detroit. When he walks around the town, people recognize him. His fans come up to him and ask him how to make it in the world-how to be successful like him. All he could say to them is the chorus of this song-"But you don't wanna be high like me, Never really knowing why like me, You don't ever wanna step off that roller coaster and be all alone,"
This song is a brand new twist by the otherwise flashy singer Mike Posner. We have heard tracks like "Cooler Than Me" from him and "I Took A Pill In Ibiza" is a whole other area of him we have not seen before.
Are you impressed? Let us know in the comments below.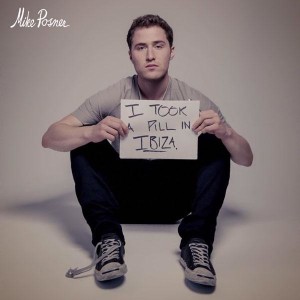 UPDATE: 18/06/2016
The song continues to be a popular sensation on charts, radio and digital sales even after months of release. Wonder what this massive success will do to Mike Posner.