A whole generation of hip-hop legends took the stage for the 2022 Super Bowl LVI Halftime show just minutes ago at SoFi Stadium in Inglewood, California, United States.
The legendary line-up of hip-hop artists led by Dr. Dre, Snoop Dogg, Eminem, and 50 Cent lit up the arena for a 15-minute time slot with a compilation of some of the biggest hits from hip-hop history.
Eminem performed his iconic hit "Lose Yourself" before taking a knee when Dr. Dre played the tune to "I Ain't Mad at Cha" by the late great Tupac Shakur.
Watch the Full Pepsi Halftime 2022 Performance
Here is the full setlist for the Super Bowl LVI Pepsi Halftime show 2022;
The Next Episode – Snoop Dogg
California Love – Dr. Dre and Snoop Dogg
In Da Club – 50 Cent
Family Affair – Mary J. Blige
No More Drama – Mary J. Blige
M.a.a.D City – Kendrick Lamar
Alright – Kendrick Lamar
Forgot About Dre – Dr. Dre, Kendrick Lamar and Eminem
Lose Yourself – Eminem
Still D.R.E. – Dr. Dre with Snoop Dogg, Mary J. Blige, 50 Cent, Kendrick Lamar, and Eminem
According to sources, the NFL refused permission for kneeling during the show. Knowing Eminem, we almost certainly did expect this from him. He still doesn't give a f*** after calling his Super Bowl performance the opportunity of a lifetime!
Update: It was revealed that NFL did, in fact, know about Eminem preparing to kneel during his halftime show, as they watched the rehearsals. It was also revealed that NFL had no intentions of stopping Eminem from kneeling.
Anderson .Paak was seen going heavy at the drums during the halftime performance.
Although not listed on the official halftime performers line-up, 50 Cent also made an appearance to perform his iconic hit "In Da Club," hanging upside down, true to the song's original music video.
Finally, a picture of Doja Cat and The Weeknd at the Super Bowl LVI. The more you look at this, the worse it gets. 😀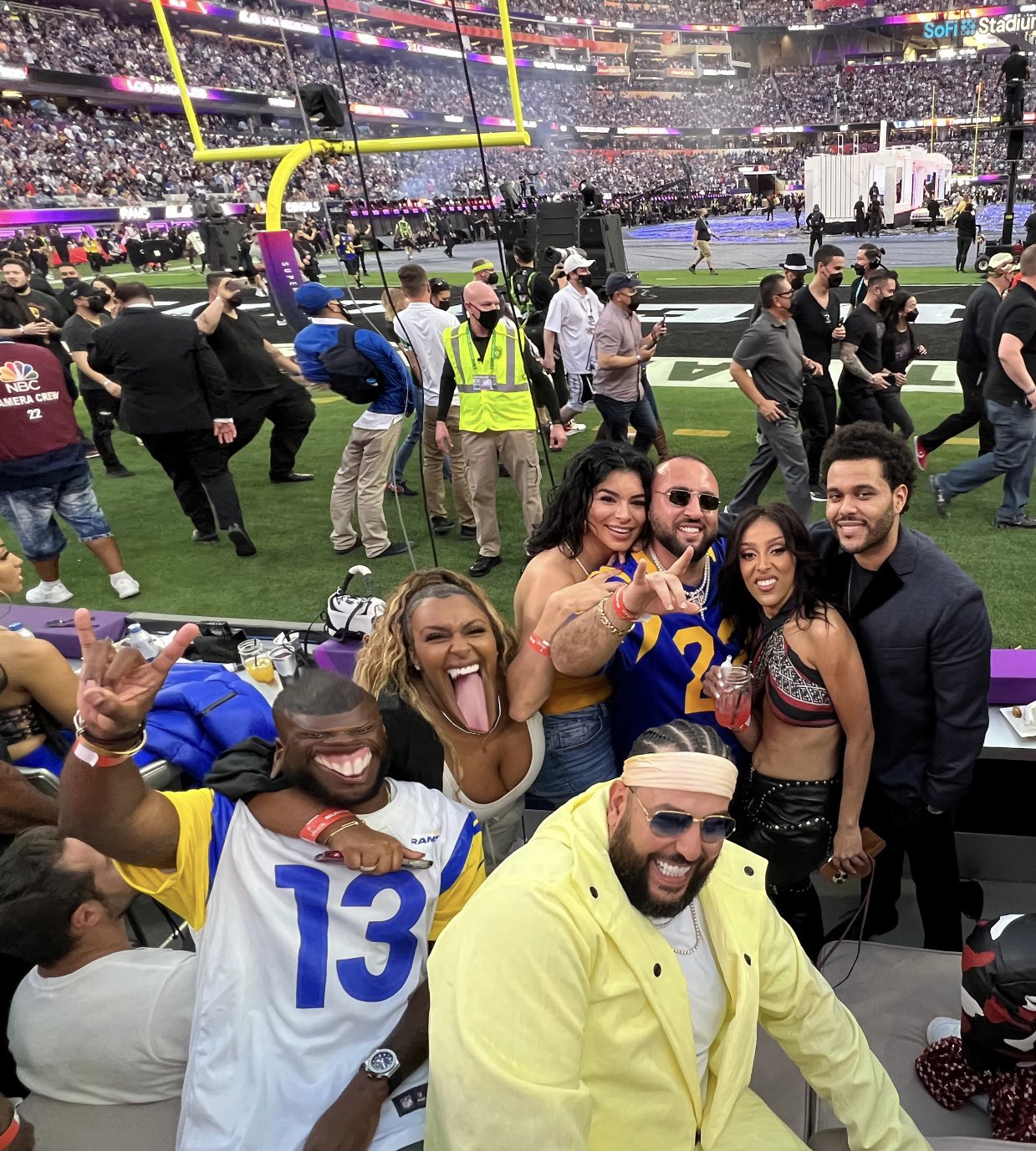 I think we can all agree that this year's halftime show was one for the books. A true walk down the memory lane for a whole generation of kids who've all grown up now.
It was an important day for hip-hop.