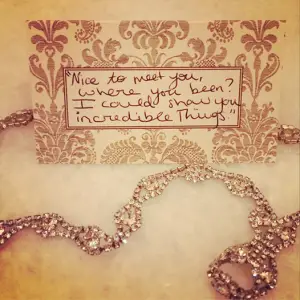 Track #02: Blank Space
'Blank Space' is my jam right now! This is such a catchy song, that it sticks in your head like a super adhesive. Taylor Swift has a playful voice in the song and uses a little 'click' sound she makes to pace out at one point, that has me absolutely wrapped in love. You'll see that when you get hands on your copy of '1989' album.
I'm not quite sure if the 'Blank Space' song lyrics have any deep meaning to them. It is like a series of events reported in a sweet voice.
"Nice to meet you
Where you've been?
I can show you incredible things.."
Sounds like a typical teenage POP song right? I don't even know what these three lines mean, except that Taylor is mesmerized by whoever she saw. LOL.
"Magic, madness, heaven, sins
Saw you there and I thought oh my god
Look at that face, you look like my next mistake
Love's a game, wanna play.."
Again started as a set of random words, but turned out to a new going-to-be-famous quote. "You look like my next mistake" means Taylor clearly knows that he is going to break her heart, but then again she is absolutely drunk in love. So she just wants to play the game of love.
"So it's gonna be forever
Or it's gonna go down in flames
You can tell me when it's over
If the high was worth the pain.."
Taylor isn't sure as to whether this could be a lifetime thing or just a fling. She is not ready to give up since she is blinded by love. So she asks him to tell her when it is over if the highest point of their relationship was worth the pain they have to go through after the breakup.
Buy Taylor Swift's "Blank Space" on iTunes / Amazon
The songs goes on and on about a casual relationship-on again and off again. So when all the lyrics are put together and looked at it in a big picture, there is a wholesome meaning behind it. It is a fast paced, fancy and seemingly bold and transparent set of lyrics, but it carries a meaning nonetheless.
In 'Blank Spaces' too we can hear the heavy electronic drums and some synthesizers. That is all Max Martin's expertise. I believe the track is beautifully composed and tuned.