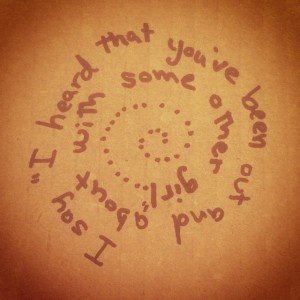 Track #03: Style
'Style' is the third track of the '1989' album by Taylor Swift. This is a classic 80s POP song. Classic POP music accompanied with Max Martin's classic electronic guitars and drums. I would have picked 'Style' as the track #01 of the album over 'Welcome To New York'.
'Style' is again about a classic bad-boy type of relationship. There is a LOT of rumors that this song is about Taylor's relationship with Harry Styles of OneDirection. But there is no sufficient evidence to support that. *wink*wink*
"

You got that long hair, slicked back, white t-shirt.."

 
I spoke about the classic Harry Styles look in relation to this specific lyric line, which you can read here.
In this song too Taylor is stuck in a endless spiral of a relationship.
"I should just tell you to leave cause I
Know exactly where it leads but I
Watch us go round and round each time"
Then she goes on to compare the guy to a James Dean type of character and herself to a 'Marilyne Monroe' type of character, maybe?
 "

And I got that red lip classic thing that you like"
The girl is obviously head-over-heels for this guy. She has heard that this guy has been with other women. But when he comes home, takes off his coat and holds her in his hand and says;
"what you've heard is true but I
Can't stop thinking about you"
then they keep on;
"

And when we go crashing down, we come back every time.
Cause we never go out of style
We never go out of style"

 
So that's pretty much about the song. The moment I heard the little preview playing in the background music of the Diet Coke Commercial, I knew this was going to be an instant hit. And so it is…
The lyrics do speak a certain story, along with a well composed music to match it. This is what makes a 'great' song.
Also I really love the part where Taylor screams;
"

Take me home
Just take me home
Just take me home"

 
She is just fed up with everything and wants to go home. I love the way she screams these three lines out in an absolute 80s classic POP song.
Three out of three tracks we reviewed were POP songs in this album. Looks like Taylor's Country side is taking a break. But if you think about it, these are the same TaylorSwift Country songs simply shifted to POP genre. I love it…
Taylor Swift 'Style' Lyric Credits: METROLYRICS