Taylor Swift is no stranger to the spectacle of music awards, that is The Grammy Awards. She has won so many Grammy's that I have lost count of it all. But we have a full list at the end of the article, for me and for you. Taylor Swift's new album "1989" didn't make it in time to be eligible for this year's Grammy Awards. However the hit single "Shake It Off" was released on time and guess what? it has a nomination–and a very prestigious one at that too.
Taylor Swift's "Shake It Off" is nominated for the 'Record of The Year' at the Grammy Awards 2015!
No big surprises there. I was expecting "Shake It Off" to get a nomination or two and out of the Four categories of nominations revealed, it has one nomination.
This year Grammy Nominations are being revealed in parts. As of now only four categories of nominations have been revealed and more will be revealed as days go by. The four categories revealed and relevant nominations are can be seen on our Exclusive Grammy Awards 2015 Nominations List thread.
Taylor Swift missed the opportunity to get "1989" included for 'Best POP Vocal Album" because "1989" came too late for that. However I will predict now itself that in Grammy Awards 2016 "1989" will most definitely grab a Grammy!
Anyway since this is the season of Grammy Awards, here is a full list of all the Grammy Awards Taylor Swift has swiftly bagged throughout the years.
Full List of Grammy Awards Won by Taylor Swift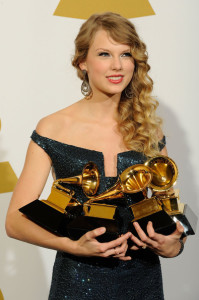 2009 – 52nd Annual GRAMMY Awards
Best Country Album – Fearless
Best Country Song – White Horse
Best Female Country Vocal Performance – White Horse
Album of The Year – Fearless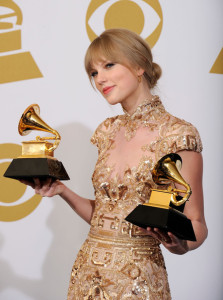 2011 – 54th Annual GRAMMY Awards
Best Country Solo Performance – Mean
Best Country Song – Mean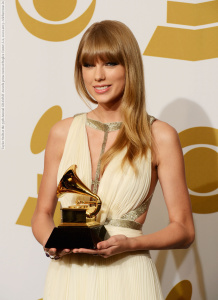 2012 – 55th Annual GRAMMY Awards
Best Song Written for Visual Media – Safe and Sound (The Hunger Games)
That's a staggering 7 Grammy Awards in a span of 4 studio albums. 56th Grammy Awards wasn't as colorful for Taylor since she won nothing out of 4 nominations, including 'Album of The Year' (Red), 'Best Country Duo/Group Performance' (Highway Don't Care), 'Best Country Song' (Begin Again) and 'Best Country Album' (Red).
This year the competition is even tougher. 'Record of the Year' on Grammy Awards 2015 is accompanied by Iggy Azalea (Fancy), Sia (Chandelier), Sam Smith (Stay With Me) and Meghan Trainor (All About That Bass). So it is not going to be an easy with for Taylor, if she does. I can't even begin to think who would win. Can you? Leave a comment.
May "Shake It Off" repeat on the Grammy Awards 2015 Nominations list a few more times!!