Taylor Swift took the stage at Kiss FM's Jingle Ball 2014 and pretty much gave another stunning live performance. For all those who say Taylor lip syncs, this will help prove you are just a hater and you need to get your facts straight. When the videos come out you will see that her voice is really shaky from the laryngitis.
Taylor Wift performed "Blank Space" at the Kiss Fm's Jingle Ball 2014 and if you listen carefully you will hear the coarseness in her voice, courtesy of an inflamed larynx as Taylor told us before getting on the stage.
Oh, how we missed this song. Taylor Swift opened the Kiss Fm's Jingle Ball with "We Are Never Ever Getting Back Together" and it was refreshing.
Taylor looked gorgeous in her golden dress as she attended the red carpet.
Taylor Swift Performing at Kiss FM's Jingle Ball 2014
https://www.youtube.com/watch?v=1qmVYGmmgW8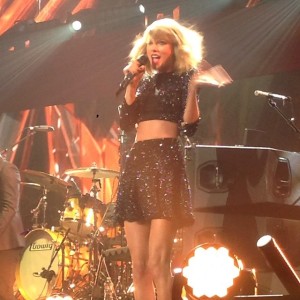 Yeah, still no belly button show for Taylor Swift. She is keeping her promise.