Taylor Swift tweeted a few minutes ago that she is sick. Swifties nation is in absolute horror of this. This is the exact tweet sent out by Taylor.

Laryngitis is a condition where the larynx gets inflamed. This makes it difficult to speak and in worse cases would result in complete loss of voice. I don't believe Taylor Swift is in a very bad condition. But feel better Taylor!
Kiss FM's Jingle Ball 2014 Kicks of with Taylor Swift and Many More Artists
This year Kiss FM's Jingle Ball 2014 will be filled with a lot of mainstream artists such as Taylor Swift, Jessie J, Pharrell Williams, Rita Ora, Ariana Grande, Iggy Azalea, 5 Seconds of Summer, Nick Jonas, Meghan Trainor, Sam Smith, Shawn Mendes and more.
There are about 15 Grammy Nominations right there!
Taylor Swift wore a beautiful golden dress for the even as she attended the red carpet. Here are the pictures.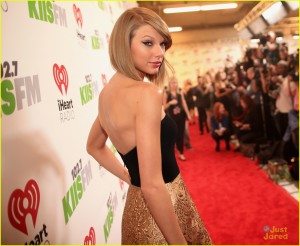 Taylor Swift and 5 Seconds of Summer members are very close friends and so is with Ariana Grande. So be prepared for some sweet pictures later in the day. Stay tuned.