The 57th Grammy Awards are still happening and a huge list of winners have been announced already. It makes us so happy to see that so many of our favorite artists, those who even inspired to start this blog, are among the Grammy winners tonight. A huge congratulations to all the winners and the nominees of this year's Grammy Awards.
Eminem has a habit of not attending the Grammys. He is back in Detroit in his studio with his closest hip hop pals from Shady Records. Eminem is helping out Slaughterhouse with his upcoming album 'Glass House'.
Eminem (and every other one tagged here) uploaded this picture on their Instagram accounts about three days ago and it was clear Eminem was not attending 2015 Grammys as well. But it didn't stop him from bagging two Grammy awards.
Eminem Wins Two Out of Three Grammy Nominations
Eminem was nominated for three Grammy awards this year. He was able to win two of the, Best Rap Album for 'The Marshall Mathers LP2' and Best Rap/Sung Collaboration for "The Monster" featuring Rihanna. The other category Eminem got nominated was Best Rap Performance for "Rap God". As deserving he is for this Grammy as well, I do believe it was more appropriate that Kendrick Lamar's "i" won that award.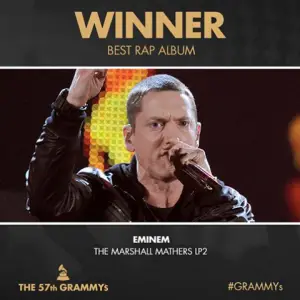 Eminem, at this point of his life, couldn't really bother about attending award ceremonies and what not. He barely leaves Detroit, his city that made him. He put down movie roles because he didn't want to move out of Detroit to shoot the scenes, and Grammy Awards isn't a big deal for him. Eminem has a total of 15 Grammy awards including the latest two.
A huge congratulations to Eminem and his crew for bringing up one of the best rap albums ever. The Marshall Mathers LP2 is undoubtedly one of the best works from Eminem.
We kind of wanted to see Eminem perform at the Grammys. But that's like a dreamception (dream inception!)- a dream within a dream. Leave a comment congratulating the Rap God on his latest Grammy wins.