It doesn't come as a surprise when we realized that Billboard had placed the second studio album by Imagine Dragons, titled 'Smoke + Mirrors' on top of their albums chart, for the week ending on March 7, 2015. It's such a great album, we kind of expected it to steal a very high spot on Billboard 200 chart.
For the previous week, we saw a dominance of Drake on Billboard 200. His surprise album 'If You Are Reading This It's Too Late' album dropped out of nowhere and pretty much took the industry by storm. Hence it was natural for it to be spotted on number 1 spot on the chart. However, Drake's album's fame was short lived.
'Smoke + Mirrors' released last week, on Feb 17, 2015 and we just had to review it upon listening to it on repeat. The Alternative Rock band has gone all-in on this album, with varying vocals and extreme music compositions–it's a real treat for you. We expected the album to do very well, and looks like it has.
'Smoke + Mirrors' Beats Drake to Secure Top Spot on Billboard 200
'Smoke And Mirrors' has achieved a 'highest ranking debut' by Billboard, and rightly so. With this change, Drake's 'If You Are Reading This It's Too Late' album moves down one spot to number 2, followed by Fifty Shades of Grey original motion picture soundtrack and Taylor Swift's '1989'.
With all the new albums dropping, '1989' album had moved down to number 5 on Billboard 200, after spending 11 non-consecutive weeks on number one spot on the chart. Since last week '1989' has moved up one spot to 4th place as of now. It's on it's way up, but it is difficult to predict that the album will have much juice left to propel it to number 1 spot again. But with the upcoming '1989 World Tour', anything is possible.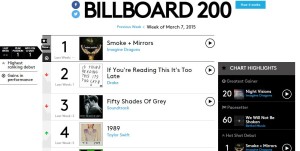 With the popularity gained by 'Smoke + Mirrors', Imagine Dragons' first album 'Night Visions' became the highest gainer for the past week, jumping up to 20th place.
Anyway, we congratulate Imagine Dragons on their album debut on top spot on Billboard 200. I do believe 'Smoke + Mirrors' will hold off competing albums for the upcoming week as well.
What is your opinion on the second album of Imagine Dragons?