Tonight was a BIG night for Taylor Swift at the 2015 BRIT Awards! She arrived at The O2 Arena in one of her most stunning looks yet, a sleevless Roberto Cavalli Atelier gown that is plain black in the front, but the back is what left everybody talking. Embroidered on the back of her dress was a gorgeous bright red dragon whose tail goes down the back of the dress. Taylor pulled off the look perfectly by donning her signature red lipstick look to match the dragon and some incredible red heels. She looked absolutely stunning.
Taylor Swift Stunned the BRIT Awards 2015 With a Dragon Dress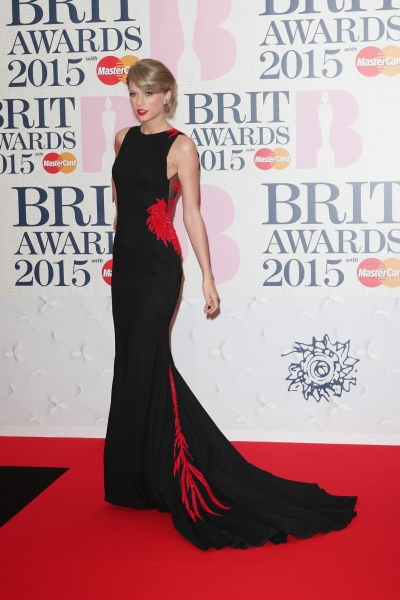 She then opened up the award show with a performance of "Blank Space" and it was one of her best performances by far. Taylor took the stage in a black business jacket and shorts amidst her white suited backup dancers and their choreography was sick. Tay's vocals were great and she really belted it out  when the performance ended in a shower of silver confetti and flashing lights that resembled a lightning storm. It was an amazing way to kick off the show.
https://www.youtube.com/watch?v=NsFhmRLfKj4
Taylor Swift Wins 'Best International Female' at BRIT Awards 2015
Taylor finished off her incredible night by accepting her first ever BRIT award for Best International Female. During her acceptance speech she gave thanks to some of her closest British friends, but gave a special shout-out to Ed Sheeran (winner of the Best British Male Award. Go, Ed!), saying,
"Honestly, I know I wouldn't be up here if it wasn't for one of my best friends who took me to pubs and taught me to make a good cup of tea and taught me everything I know about the U.K. I just want to say I love you, Ed Sheeran, wherever you are."
Congratulations to Taylor Swift on her big night!