2015 has been good for music so far-excellent, I would say. So many chart topping albums got released, and so many epic music was released. Pop, Hip Hop, Rap and Electronic music in the forerunners among the new music released. Now, Future joins the game. Not much was known about this mixtape until Future released on his SoundCloud profile for free. The mixtape has been titled '56 Nights' in reference to Future's DJ-Esco-spending 56 days in a Dubai prison for Marijuana possession. So we see the album cover done appropriately to the context.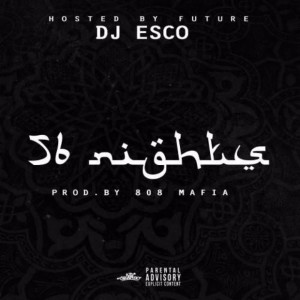 Stream the Full Mixtape '56 Nights' by Future on Soundcloud
Only one track was released ahead of this surprise album release. "March Madness" produced by Tarentino was released last week in line with #MarchMadness spreading around. Almost all other tracks are produced by 808 Mafia's Southside.
Tracklist
01. Free At Last (Prod. By Southside)
02. Never Gon Lose (Prod. By Southside)
03. Purple Coming In (Prod. By Southside)
04. Diamonds From Africa (Prod. By Southside)
05. Now (Prod. By Southside)
06. No Compadre (Prod. By Southside)
07. March Madness (Prod. By Tarentino)
08. Trap Niggas (Prod. By Southside)
09. Da Fam On Da Gram Skit
10. 56 Nights (Prod. By Southside)
We are hooked with these new trippy beats and tunes by Southside and Future. The tracks to watch out on '56 Nights' mixtape are, "Never Gon Lose", "March Madness", "Trap Niggas" and "56 Nights".
Hope you enjoyed this new music by Future. If so, make sure to leave a comment.