Lacrae Devaugh Moore AKA Lacrae was the hottest topic last year with the release of his seventh studio album 'Anomaly' in September.  The album topped several music charts across the world. "Welcome to America" is the second track of the album, and is not a single from the album. But it was a topic of discussion among many critics, as Lacrae points out some 'flaws' in America.
"Welcome to America" keeps on rapping about how America had treated Lacrae.
Watch the Official Music Video for "Welcome to America" by Lacrae
---
Download "Welcome to America" song by Lacrae on iTunes.
---
Let's get into some analysis of the lyrics of the song.
"Uh,
I was made in America land of the free, home of the brave"
The songs starts off strong, then it jumps right into a pitfall in the next line;
"And right up under your nose you might see a sex slave being traded,"
And the list starts going off into the most harshest truths in America–more or less everywhere in the world.
For the full lyrics visit AZLyrics, and you can see Lacrae listing down all the issues he sees in the United States of America and that it makes him want to leave the country. So he does, in the music video.
"But I'm packing my suit
Farewell to my motherland
Said bye to my loved ones
Fate here I come, I'm going to another land"
Some powerful imagery can be seen in the final bit of the music video. Specially when it shows the Statue of Liberty in the background as Lacrae leaves America–symbolizing that there really is no liberty in this great nation.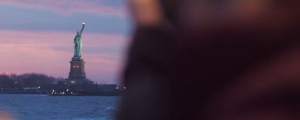 "Welcome to America" has a powerful meaning behind it. Kendrick Lamar has been doing the same thing with his latest album 'To Pimp A Butterfly'. For some reason there seems to be a spark within the rappers to address real issues in their music. We love this trend. It gives meaning to music-something more than just entertainment value.
Did you enjoy the music video? Do you agree with the message behind the song? Let us know.