Taylor Swift is known for her keen sense of style-no not the music video, but her fashion style. She is one of the best dressed and best behaved celebrities in the music business right now. She is praised and looked upon by millions because of this alone.
Taylor Swift was invited to decorate the cover photo of Glamour magazine UK edition, June 2015 issue. She wore something pretty controversial. Taylor Swift looked absolutely stunning and gorgeous in the cover photo, wearing a white see through dress, that revealed her under wear. I don't know how justified it is to call that underwear, but they are her pants covering her skin. Most would consider this pretty controversial considering her sweetheart fashion sense she has maintained so far. Everything needs to evolve right?
Taylor Swift in a See Through Dress for Glamour UK Magazine, June 2015 Issue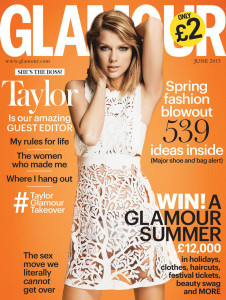 Is the dress wasn't controversial enough, you also can see Taylor Swift's mysterious bellybutton in this cover photo. Taylor Swift announced that she will not devote herself to showing her midriff on stage. She has gone to extreme lengths to cover up her belly button on every public performance so far. But she did not say anything about photoshoots, cover shoots and candids. So here is Taylor Swift's gorgeous midriff and bellybutton.
No information about the photoshoot or the interview that followed has been released to the Internet yet. But looks like she will be talking about the rules of her life, the women who made her and places she hangs out. If you are interested, tune in with Glamour UK magazine for more information, and make sure to buy the June 2015 issue for more details.
What do you think about Taylor Swift's see through dress? Is it inappropriate, given the stature she has maintained so far? Or is she a big girl now and can do whatever she wants? Let us know by votes and comments below.
[polldaddy poll=8821022]