The first visuals from Rihanna's 8th studio album has dropped and it's for her number one single "Work" featuring the Drake. The music video has gained over 30+ million views in less than 24 hours. This may not be a VEVO record, but it's pretty impressive.
The "Work" music video is quite explicit-just the way you can expect from Queen Riri. There are two music videos embedded in this official release of VEVO. Two videos directed by two directors. One version includes a typical Barbados-type dance video shot in 'The Real Jerk' restaurant in Ontario. This version has been directed by Director X. This includes a lot of grinding one each other and Rihanna slow-twerking to the beat and on Drake himself.
The other version directed by Tim Erem includes a setting similar to a private room in a bar where Drake gets a private dance by Rihanna. She twerks there too.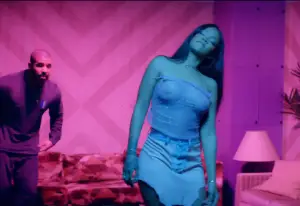 We have analyzed the lyrics of "Work" single in a previous post.
Watch "Work" Music Video by Rihanna
Rihanna and Drake has this amazing chemistry that just works on these visuals. They have a long history of working together in music and it continues in "Work" music video as well. They act so natural together.
The duo performed the single at BRIT Awards 2016 and it was something to behold.
Leave a comment and let us know what you think about the music video and the ANTI album.