A song gets shed some spotlight when it jumps 7 spots in one week after only a several weeks of being released by a brand new artist. "Panda" by Desiigner is currently sitting at #14 on Billboard Hot 100 singles chart with the title 'biggest gains in streams' over the last week.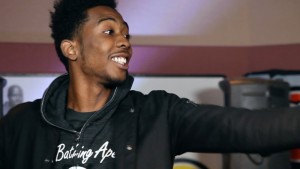 Listen to "Panda" by Desiigner
---
Download "Panda" Single on iTunes / Amazon
---
Although groovy and smooth in hip hop beats, this song does support a fairly valid meaning behind its lyrics.
This what they all been waiting for
I guess so
They been waiting for this sh*t for a long time didn't they
I'ma give it everything I got
Ayo Dougie park that X6 around the corner
Aye I'm just feeling my vibe right now
I'm feeling myself
The first verse is dedicated to Desiigner's breakthrough to the hip hop industry. Kanye West first spotted this talent and signed him in. Lucky for both of them, the first single "Panda" is just about to become a stellar hit.
[polldaddy poll=9376552]
Panda, Panda
Panda, Panda, Panda, Panda, Panda
Wherever it says Panda, you should only imagine a BMW X6 with tinted windows.
I got broads in Atlanta
Twisting dope, lean, and the Fanta
It is not necessary to get into the drug recipes in our review of the song, but Desiigner is elaborating on the life unfolding before him.
Credit cards and the scammers
Hitting off licks in the bando
Again, not the best of lines I want to be explaining, but this could be referring to the neighborhood he grew up in Brooklyn.
Black X6, Phantom
White X6 looks like a panda
And there's the linen. He himself explains the title of the song.
Man I'm the macho like Randy
The choppa go Oscar for Grammy
B*tch n*gga pull up ya panty
Hope you killas understand me
He gots swag like Randy 'Macho Man' one of the better wrestlers of WWE.
"The Oscars" are the informal name for the Academy Awards, rewarding excellence in all realms of cinematic dramatic expression. A Grammy is the musical award equivalent. – Genius.com
The choppa (automatic weapon) has a "clapping" sound when fired. Award shows typically involve lots of clapping, as does dealing drugs (grams). – Genius.com
He says men are acting like women now ("wearing panties"), and he asks them to man up.
Watch Desiigner Perform the song live at Fort Fader
Wake up Versace sh*t, life Desiigner
Whole bunch of lavish sh*t
They be asking round town who be clappin sh*t
I be pullin up stuff in the Phantom ship
I got plenty of stuff of Bugatti whip look how I drive this sh*t
The newfound popularity could make Desiigner wake up one day to all the luxuries that await artists with a Billboard hit. Clothing from Versace and nice cars.
Big Rollie, it dancing bigger than a Pandie
Rollie refers to the Rolex brand. The diamond-studded luxury watches shine a bigger light than a Panda.
Know some killers pull off and they in the Wraith
Desiigner brings in Rolce Royce Wraith into the song too.
Zana Ray f*cking up sh*t and she doin' her bidnezz
Zana Ray is Desiigner's manager and the singer gives a nice shoutout to her in "Panda" lyrics. She may F-up stuff, but she does the job of managing his business well.
I be getting to the chicken
Counting to the chicken
And all of my n*ggas gone split it
'Chicken' is slang for a kilogram of cocaine. The rest of the lines are self-explanatory.
What do you think about this new and upcoming sensation?
Leave your ideas about Desiigner and the new hit single in the comments below.
UPDATE: 17/06/2016
The song continues to be a massive success for Desiigner. The song climbed to number one spot on Billboard Hot 100 chart and after many weeks of domination, was dethroned by "One Dance" by Drake. However, the song is still ranked second after 17 weeks on the chart. The song has been certified Platinum by RIAA considering sales in United States alone.
UPDATE: 02/07/2016
With 45% of majority vote on the above poll hosted by JustRandomThings, we conclude "Panda" by Desiigner to be 'Dope' rather than 'Hot'. It's noteworthy that 22% of the people thought the song to be just 'Meh.' This conclusion has been made after more than 5,500 votes on the poll.