'Divide' could be named as one of Ed Sheeran's most personal and emotional albums so far. "Supermarket Flowers" might be the most intense track out of the whole lot as Ed Sheeran opens up about his relationship with his grandmother and the entire experience of her passing away. The lyrics are really well crafted and beautiful. This song is one to bring tears to your eyes.
According to Ed Sheeran, "Supermarket Flowers" was written from Ed's mom's perspective;
"It was written for my mom's point of view. My grandmother was very ill during the time I was making the record and passed away at the end of me making the record so we wrote this song as a tribute and just left it on."
The intense back story behind the song makes it that much more special and personal to us all. Again, a very relatable track for pretty much everybody.
Listen to "Supermarket Flowers" by Ed Sheeran
---
Download "Supermarket Flowers" Single on iTunes and Amazon
---
Before we get in to our lyrics annotation, it is better to listen to what Ed Sheeran had to say about this song.
"[It was] Really hard to write, yeah. Very easy at the same time in terms of its flow. Because there was no trying to think of poignant lines and being like you know death is this or like life is this. It was just so spot on and the lyric of 'you are an angel in the shape of my mom', that could end upping a poignant line but it was the truth. She was one of the nicest women you'd ever meet, and she was my mum's mum. It was written for my mum's point of view; it was choosing loads of specific things and then just finishing it as a song."
Lyrics Review and Song Meaning of "Supermarket Flowers"
Verse 1
I took the supermarket flowers from the windowsill
I threw the day old tea from the cup
Packed up the photo album Matthew had made
Memories of a life that's been loved
Took the get well soon cards and stuffed animals
Poured the old ginger beer down the sink
Dad always told me, "Don't you cry when you're down"
But mum, there's a tear every time that I blink
Get yourselves into Ed's mom's POV for this song to make sense. She is walking by the street and grabs some supermarket flowers-the ones you get on the street side. She packs the photo album made by Mathew Sheeran-that is Ed Sheeran's brother and also grabs the get well soon cards and stuffed animals from the supermarket-on her way to see her sick mother at the hospital.
Everybody says 'be strong' when someone close to you passes away, but that is the most difficult time to be strong in your life, especially when the person was 'the nicest person in the world' as described by Ed Sheeran.
Pre-Chorus
Oh, I'm in pieces, it's tearing me up, but I know
A heart that's broke is a heart that's been loved
Pre-chorus of "Supermarket Flowers" gives some wisdom for everyone. Obviously Ed Sheeran's mom is shattered at the thought of her mom passing away. But she also knows that a heart to ache this much means it has been loved so much.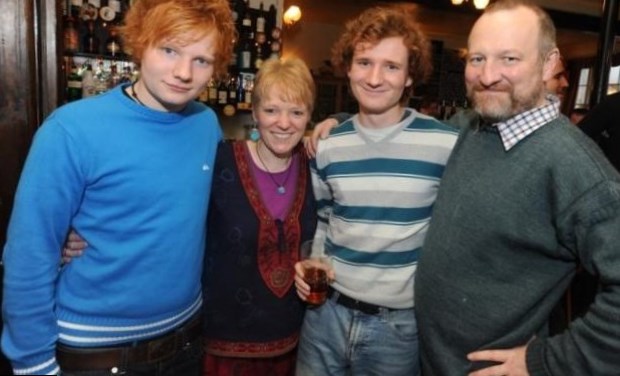 Chorus
So I'll sing Hallelujah
You were an angel in the shape of my mum
When I fell down you'd be there holding me up
Spread your wings as you go
When God takes you back he'll say, "Hallelujah
You're home"
The singer (or the Ed's mom) cannot see her mom as anyone else than an actual angel sent from heaven. So she has no worries about her passing away, because she knows God will be waiting for her at the heaven's gates and welcome her back to heaven.
Verse 2
I fluffed the pillows, made the beds, stacked the chairs up
Folded your nightgowns neatly in a case
John says he'd drive then put his hand on my cheek
And wiped a tear from the side of my face
Imogen Sheeran makes her mom's room tidy just in case she returns from the hospital. She has a ray of hope but she is already in tears. John Sheeran wipes the tear off her face and says he will drive to the hospital.
These lines could also be interpreted in a different way. Imogen's mom could have already been passed away and Imogen is in denial. She is making the beds and folding the nightgowns in denial as she cannot accept what happened. John comforts her and says he will drive to the morgue or the funeral.
Pre-Chorus
I hope that I see the world as you did 'cause I know
A life with love is a life that's been lived
Ed's mom wishes to be like her mom. She was a loving and caring soul and Imogen Sheeran wants to be like her
The chorus of "Supermarket Flowers" repeats again.
Outro/Chorus
Hallelujah
You were an angel in the shape of my mum
You got to see the person I have become
Spread your wings and I know
That when God took you back he said, "Hallelujah
You're home"
A slightly altered chorus sends us away in tears in "Supermarket Flowers." Ed's mom is happy that she lived long enough to see her daughter grow up to be someone who she was proud of. She lived to see her grandson become one of the biggest superstars in the world. In a nutshell, she got to live the kind of life others would envy to have. She did her duties as a mom and went back to her true home-heaven.
We can only imagine how loving and caring Ed's grandmother had been for him to pen down such an amazing song. We can only pray for an even better afterlife for her and for her family to cope up with her passing away better.
Us at JustRandomThings think "Supermarket Flowers" is one of the most beautiful and tragic songs crafted by Ed Sheeran to-date and the fact that it comes from a personal space of his own makes it even more special.
So what are your thoughts on "Supermarket Flowers"? Let us know in the comments below and maybe comment down your favorite lines from the song.