There are only a handful of songs that are likely to transcend through time across generations to come. And there are even fewer such songs inspired by real-life people. A song that fits perfectly into these criteria is "Hey There Delilah" by the American rock band Plain White T's. However, this song is the furthest from a rock anthem.
"Hey There Delilah" was released on May 9, 2006, as the third single off of Plain White T's third studio album 'All That We Needed.' The song gained little recognition initially but slowly gained traction within the year following and eventually reached #1 on Billboard Hot 100 and #2 in the UK Singles charts by July 2007. As of 2014, the song has sold over 4.5 million copies in the USA, and over 1.2 million copies in the UK.
"Hey There Delilah" received two Grammy nominations in 2008 for the categories; 'Song of the Year' and 'Best Pop Performance by a Duo or Group with Vocal,' but lost to Amy Winehouse and Maroon 5 respectively.
Who is "Hey There Delilah" About?
The song is inspired by an actual person; also named Delilah. Plain White T's frontman Tom Higgenson wrote "Hey There Delilah" about a girl he met in Chicago named Delilah DiCrescenzo in 2005. The story goes as Delilah DiCrescenzo was back home in Chicago, on break from school at Columbia University, and met Tom Higgenson at a party. Tom Higgenson described Delilah as the most beautiful girl he has ever seen and thus got inspired to write the song.
"I thought she was the most beautiful girl I had ever seen," he says. "I told her, 'I have a song about you already.' Obviously, there was no song. But I thought it was smooth."
But, alas, Delilah had a boyfriend and she was honest about it with Higgenson. However, this did not stop Higgenson from composing one of the most romantic songs to be ever written. A year later, Tom Higgenson dropped the "Hey There Delilah" recording to Delilah DiCrescenzo, and she was flattered. None of them ever imagined the song would grow to be as big as it is today!
Delilah DiCrescenzo spoke about the time Tom Higgenson let her listen to the song for the first time; "My first thought: "Oh no! Did I lead Tom on?" I became anxious. I was with Will. I'm still with Will to this day. Tom and I had a friendly relationship and I wondered if he misconstrued my actions. He put so much effort into the song. I felt guilty, like, "I'm such a wench!" When my dad heard the lyrics "Oh what you do to me," he said, "Delilah, exactly what did you to do this guy?"
Although Tom Higgenson never won the girl, he did manage to win a whole world. Delilah DiCrescenzo did attend the 2008 Grammy Awards with Tom Higgenson and the rest of Plain White T's for their nominations.
Who is Delilah DiCrescenzo?
Delilah DiCrescenzo is an American cross country runner. She competes in the women's 3000 meters steeplechase. She is also a 2005 graduate of Columbia University. Most importantly, Delilah DiCrescenzo is the subject of the infamous Plain White T's song "Hey There Delilah."
Watch "Hey There Delilah" Music Video by Plain White T's
---
Download "Hey There Delilah" Single on Apple Music & Amazon
---
"Hey There Delilah" Lyrics Meaning and Song Review
The song is about a long-distance relationship between a girl and the singer; in this case, Tom Higgenson and Delilah DiCrescenzo, although they never officially dated.
Verse 1
There is no beating around the bush about who this song is about. The song starts with an address to Delilah, which is also the title of the song. At the time of writing this song, Delilah DiCrescenzo was attending Columbia University and Tom Higgenson and the band were based in Chicago. The '1,000-mile' distance is an expression for a long distance. In literal terms, the distance between Chicago and New York is about 700 miles, close enough!
Tom Higgenson cannot actually see Delilah in New York City. But he imagines she does. Tom was quite literally smitten by her beauty and that's something hard to erase from his memory. In his mind, she will always look beautiful.
Times Square is one of the flashiest places in New York City, with lights, massive LED screens, and tall buildings. In Tom's mind, Delilah shines brighter than all of this combined.
Verse 2
In the second verse of the song, Tom consoles Delilah who is 'all alone' in the big city of New York by saying that the distance between them is just a number. If ever she feels lonely and needs somebody to keep her company, Tom is right there for her.
Tom also sings her "Give this song another listen / Close your eyes / Listen to my voice, it's my disguise." In a way, this song is meant to keep her company in the big city. If she ever feels lonely, she can always close her eyes and listen to this song and know that there is always a person who is right by her side.
In another way, this song is Tom's attempt at enchanting her. He wishes that maybe if she listens to it one more time, would she change her mind about him? The reason for Tom to call this song his "disguise" is possibly because he believes that he is not good enough for her in real life. However, this song is golden, and Tom knew that. So, he was not afraid to use this song as his mask to wear.
Chorus
The repeating "Oh, it's what you do to me" lyric in the chorus of the song really does bring out what the singer is aching for. In reality, she did not do anything to him, except for being exceptionally beautiful in his eyes, and possibly being a good person on top of that. So, Tom Higgenson had all the right reasons to fall for her, and he did. The way she looks, talks, walks, and smiles are everything she does to him!
Verse 3
In the third verse of the song, Tom makes a promise to Delilah that no matter how hard times could get, he will always be there for her. He plays on the lore that 'musicians are broke' to promise her that someday he will get big enough to pay the bills with his music; "We'll have the life we knew we would."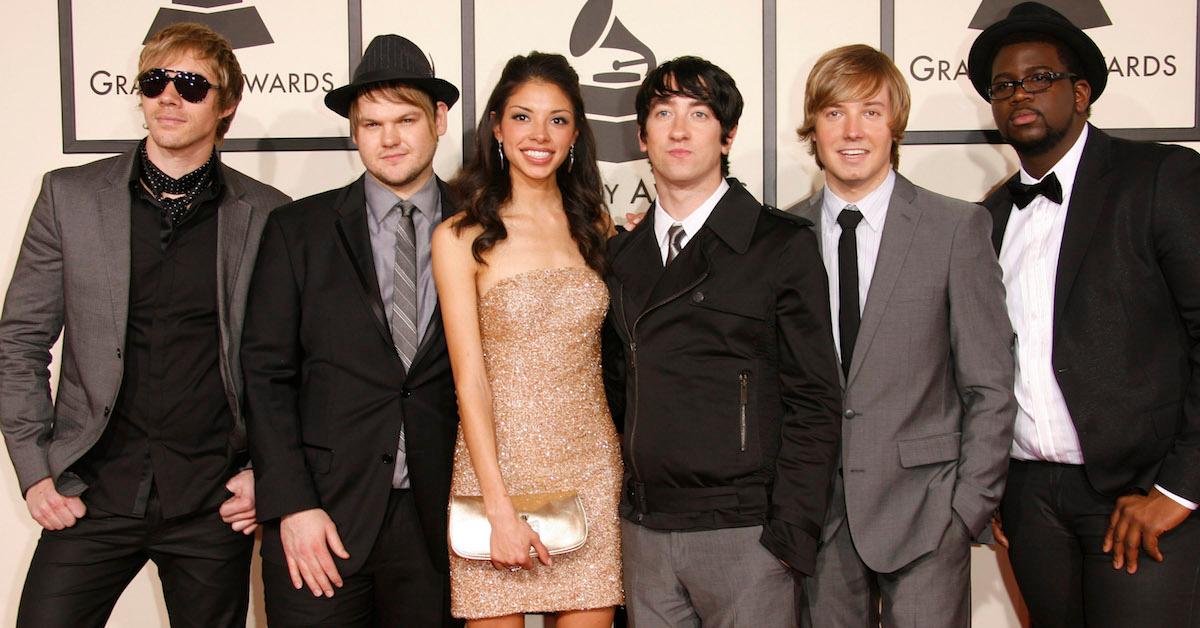 Verse 4
In the fourth verse of the song, Tom Higgenson kind of admits defeat. He knows that she is taken and he also knows that his song cannot sway her feelings for him. Tom Higgenson could probably write another hundred verses or hundred songs about her, but he knows it won't do any good for him. If these lyrics could sway her feelings by 1%, he would write a hundred songs!
Bridge
In the bridge of the song, Tom Higgenson feels as if the physical distance between the two of them is possibly the biggest obstacle between them. She only has to ask and he would be right there by her, physically too.
The lyric "But they've got planes, and trains, and cars" could also be a reference to the 1980s movie 'Planes, Trains, and Automobiles,' a story about an ill-assorted couple's wacky voyage from New York to Chicago, the very two cities this song is based on.
Tom Higgenson promises Delilah that "That by the time we get through / The world will never, ever be the same." While this may stand as a sentiment of love and romance, it can also be interpreted as him coming to terms with the reality of their relationship. By the time this song is out and his true feelings are confessed in the most romantic way possible, if Delilah isn't with him, the world would never, ever be the same, in a bad way! The lyric "And you're to blame" fits right into this context if taken literally. However, it is very doubtful that the singer would say anything even remotely hurtful in these lyrics to Delilah.
Verse 5
In the final verse of "Hey There Delilah," Tom Higgenson looks for an optimistic future for them. He counts days until Delilah is done with her college and will return to her hometown of Chicago, where Tom lives too. The singer is ambitious, as he promises that he will be making history with his music and "it's all because of you." Let the irony of these lyrics sink in. "Hey There Delilah," inspired by Delilah DiCrescenzo became Plain White T's most successful single to date. The lyrics literally did come true, save for the 'getting the girl' part.
Check out this slowed and reverbed version of "Hey There Delilah"
The reality of the situation is that Delilah DiCrescenzo had a boyfriend from college to keep her company and all throughout the success of the song too.
So, did these words by Tom Higgenson go to waste? Not at all. Millions of people have listened to "Hey There Delilah" and consoled themselves through decades so far, and will for decades to come.
Let us hear how you were moved by these lyrics in the comments below. Check out the complete lyrics on Genius.