Euphoria season 2 is underway and the dreamy drama series lacked only one thing–a dreamy Lana Del Rey song and now the wish is fulfilled. With the brand new single "Watercolor Eyes," Lana flies us to a new dimension of emotions which befits the drama series.
Euphoria's story revolves around a troubled teenager Rue (played by Zendaya), a drug addict fresh out of rehab with no plans to stay clean. She befriends a transgender teenager Jules and their world spirals into a thing of romance and chaos. The drama series is filled with scenes of drugs, sex, wild emotions, heartbreak, love, and issues that teenagers face. The second season of Euphoria began streaming on HBO on January 9, 2022.
"Watercolor Eyes" is part of the Euphoria Season 2 soundtrack, which also contains some hits such as "Come Rain or Come Shine" by July Garland, "Nate Growing Up" by Labrinth, "Hypnotize" by The Notorious B.I.G., "DIRT" by B.o.B., "Party" by DMX, "You Are" by Raia Was, and more.
The title of the song, 'watercolor eyes,' is likely a reference to the glittery makeup on the lead character, Rue's face, and how it blends into a starry fusion when she sheds a tear.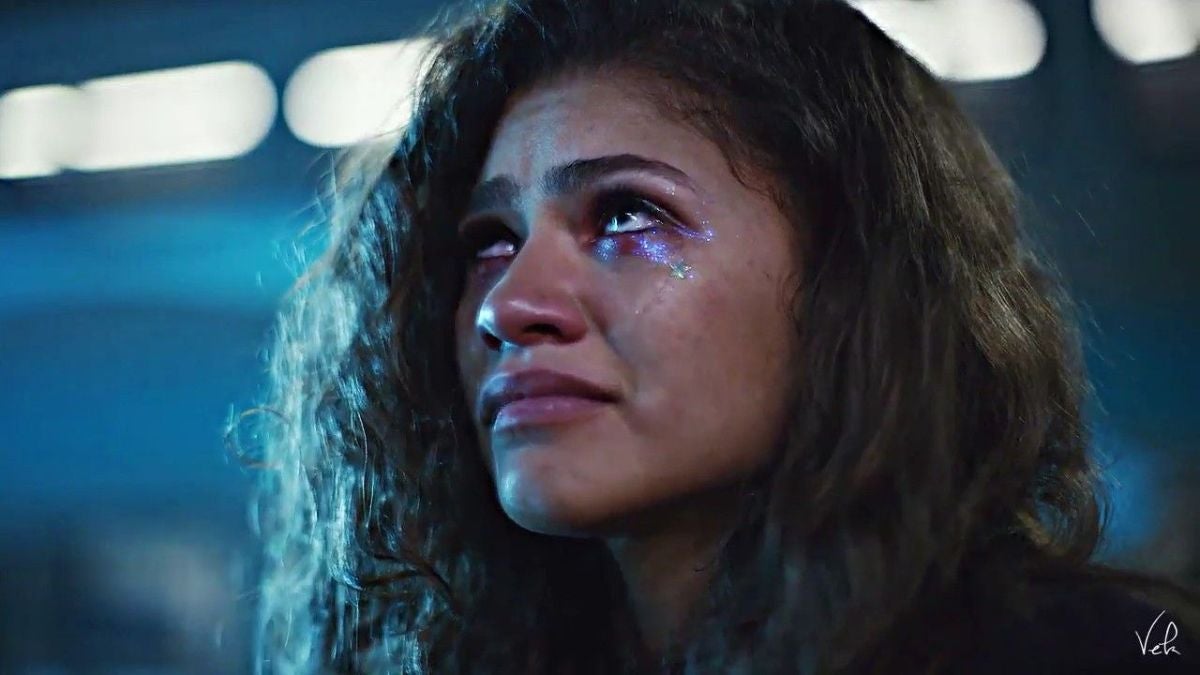 Listen to "Watercolor Eyes" by Lana Del Rey from 'Euphoria' Season 2 Soundtrack
Lana Del Rey "Watercolor Eyes" Lyrics Meaning and Song Review
The first verse of the song starts off with one of the common themes of Euphoria — relationships and their unsteady nature. Teenagers tend to fall into emotions fast and often end up getting hurt in the process.
I think that you taste like rock candy
Sweet like beaches, leave me all sandy
Rock candy is indeed sweet, but Lana quickly turns the metaphor elsewhere to show the duality of emotions. Sweet like a beach (which is not sweet at all)–it's sandy and tastes like salt. Leaving her sandy entails dragging her to a coarse or tough spot. Sand getting on your body does not necessarily feel nice.
'Watercolor eyes' refer to teary eyes, which is a common theme throughout the Euphoria series as teenagers navigate a world of drugs, sex, social media, and emotions.
In the next lyrics, Lana Del Rey talks about the fickle nature of relationships for teenagers. She asks what does it matter that they engross themselves in each other just to be left heartbroken in the end. It does not matter that the good times taste like heaven and the bad times feel like coarse sand.
In the second verse of the song, Lana Del Rey asks her partner why are they playing the guitar when she sleeps. While this must be metaphorical, the sentiment entails that the two of them are not on the same page. They are in entirely different zones. This is why they keep breaking up and getting back together remembering how heavenly they are together–then they go down the same rabbit hole and repeat!
Let us hear what you think about this song in the comments below. Check out the complete lyrics of the song on Genius.