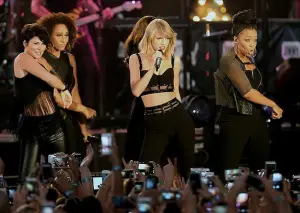 Taylor Swift went on Jimmy Kimmel Live today performing her first live show from '1989'. Taylor performed both number 1 hit singles "Out Of The Woods" and "Shake It Off" in front of a massive crowd. The performance was held at Hollywood Blvd.
Watch the Full 'Out Of The Woods' Performance
https://www.youtube.com/watch?v=PVAfR3QjFKo
Taylor looked electrifying performing the hit single. A lot of electronic music and heavy synthesizers made this a unique POP song. Looking at Taylor perform live so effortlessly makes you realize what a talented artist she is.
Out Of The Woods was the second single out of the 1989 album and it spoke about a relationship that was dull and long and soul-sucking. Their road never seems clear and without obstacles. Repetition of the term "are we out of the woods?" emphasizes this idea very well.
Taylor Swift Live "Shake It Off" Performance
https://www.youtube.com/watch?v=9_sBxqyX_co
Taylor Swift's live performance was electrifying on Jimmy Kimmel today. This will be the first live performance of many to come in the future. Launch of 1989 album marks an end of an era–end of a Country era and beginning of a POP era. Although it has yet to be officially announced, Taylor will begin a '1989 Tour' after the album releases. We will get you the details as soon as they are revealed.
1989 album comes out on October 27, 2014.