Taylor Swift attended the 'Z100 Jingle Ball 2014' last night and slayed the stage and the audience. Everywhere she performs, she owns the place. I believe it has a lot to do with the power of POP music, the "1989" album itself and Taylor's ability to deliver it in such a way that it captures the people.
Taylor Swift performed 5 songs at the event and it brought two eras together. Well, not so much so. She performed "Welcome To New York", "We Are Never Ever Getting Back Together", "Blank Space", "I Knew You Were Trouble" and "Shake It Off" and . "Blank Space" was as mesmerizing as always. I never get enough of that song and Taylor's performances of it. Music-wise pretty much all three songs belong to POP era, and album-wise they are from two different eras.
Also Taylor turned 25 (December 13) as she was performing on stage. So it was kind of a special night/performance for everybody. She even added a cute line; "It's my birthday" right in the middle of "Shake It Off" and jumped off to the beat!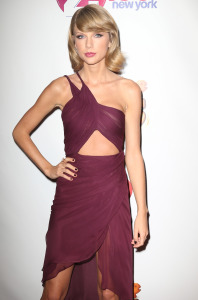 Watch All 5 Performances by Taylor Swift at Z100 Jingle Ball 2014
That's almost half an hour of pure Taylor Swift POP experience. So happy for those who could make it to Madison Square Garden to witness this performance.
Taylor Swift was accompanied by many other artists at Z100 Jingle Ball 2014 and some of them were; Pharrell Williams, Meghan Trainor, 5SOS, Sam Smith, Iggy Azalea, Calvin Harris, Maroon5, Shawn Mendes, One Republic, Jessie J, Ariana Grande, Charlie XCX, Nick Jonas and Gwen Stefani. That's a crazy good line-up of artists with a variety of music.
Taylor Swift's New Friend Iggy Azalea
I don't really think they are quite anything alike–but if it works for them who am I to judge!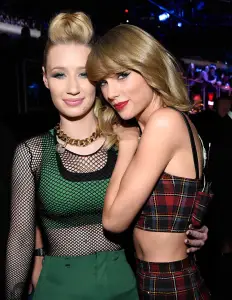 Pictures of Taylor Swift's Performance