So it is officially the 25th birthday of the beautiful and insanely talented Taylor Swift. I made a tribute post for her just before the dawn on December 13. So again, #HappyBirthdayTaylorSwift. That is also the hashtag you can use to stay tuned with all that's going on with Taylor Swift's 25th birthday!
Taylor Swift's 25th Birthday Party Is Full of Powerful Music Names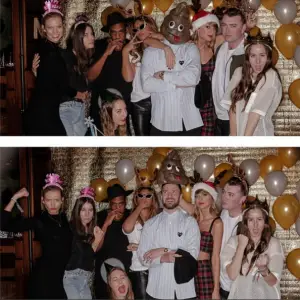 Yes, you can believe your eyes.
That is Jay-Z right there, probably the next big thing after Dr. Dre in the field of music. And then there is her adorable wife, Beyonce. Then you may recognize the one and only Justin Timberlake (poop head in the top picture). Just next to Taylor is Sam Smith! Of course, Karlie Kloss is there.
Where is Ed Sheeran though? He is Taylor's best guy-friend. Well, he was quite busy attending BBC Music Awards 2014 and winning "British Artist of the Year" award.
Taylor Swift ran into Beyonce at the "2014 Billboard Women In Music" event, where Taylor also won the coveted "Woman of the Year" award. That wasn't even the highlight of the night. Legendary singer Aretha Franklin sang "Happy Birthday To You" to Taylor Swift during the event–she still has an amazing voice. Aretha Franklin was awarded the first ever "Icon Award" during the event.
Watch Aretha Franklin Sing "Happy Birthday To You" For Taylor Swift's 25th Birthday Party
Taylor Swift later Tweeted this: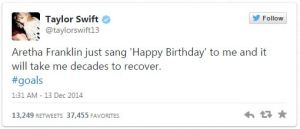 So all things considered it was a pretty eventful birthday for Taylor–pretty sure she is used to these by now (except for getting a birthday song from Aretha Franklin).
We hope she had a great birthday and she is officially 25 now. Whatever that was illegal at 24 is now legal. LOL. And we hope she makes the best of the year ahead and keep slaying everything that stands in her way of reaching the stars.
Happy 25th Birthday Taylor Swift!!!