Just 5 days after the newest album has been released (December 05, 2014) Nicki Minaj is getting tons of appreciation for her latest creation. Nicki Minaj has taken a little detour from her usual style of music and "The Pinkprint" is claimed to be a best work yet. The album is full of a variety of songs–but mostly consists of emotional and lyrically-valuable tracks.
First of all here is the tracklist of The Pinkprint:
Standard Edition (iTunes / Amazon)
1. All Things Go
2. I Lied
3. The Crying Game
4. Get On Your Knees (feat. Ariana Grande)
5. Feeling Myself (feat. Beyoncé)
6. Only (feat. Chris Brown, Drake & Lil Wayne)
7. Want Some More (feat. Jeremih)
8. Four Door Aventador
9. Favorite (feat. Jeremih)
10. Buy A Heart (feat. Meek Mill)
11. Trini Dem Girls (feat. Lunchmoney Lewis)
12. Anaconda
13. The Night is Still Young
14. Pills N Potions
15. Bed of Lies (feat. Skylar Grey)
16. Grand Piano
Deluxe Edition Tracklist: (iTunes / Amazon)
17. Big Daddy (feat. Meek Mill)
18. Shanghai
19. Win Again
Itunes Exclusive Bonus Tracklist: (iTunes)
20. Truffle Butter (feat. Lil' Wayne & Drake)
Target Exclusive Edition Tracklist: (Target)
21. Mona Lisa
22. Put You In A Room
That's a pretty big album. 22 songs in total in several editions of the album. However we will be reviewing the main 16 tracks that have landmarked this album in the Hip Hop industry.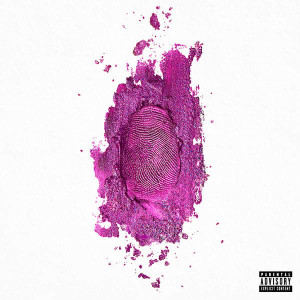 Track 01: "All Things Go"
This track is considered to be a very emotional song and also very personal. Nicki comes out about how she has come thus far in music, besides all shady past she has had. She addresses the murder of her cousin, losing her child, her struggle to overcome all that grief and how the stardom has distanced her from her family. "All Things Go" is a definite proof that Nikci Minaj can and has grown music-wise.
Track 02: "I Lied"
This is a lengthy track–running for 5 minutes and Nicki Minaj tweeted that it's epic, and we are ready to take her word for it. Here's the audio track, you tell us what you think about it.
https://www.youtube.com/watch?v=iptKE5p22FQ
Track 03: "The Crying Game"
This track was done in collaboration with Jessie Ware and Billboard claims it to be one of the best songs in "The Pinkprint" album. This track talks about being in an abusive relationship, always getting beaten down "Another slap to the face, another uppercut." Great lyrics, btw.
Track 04: "Get On Your Knees"
This track is featuring Ariana Grande for the bridge and kind of talks about domination? Previous track was about getting beaten down and this track talks about taking the reigns. Nikci Minaj thought this track was "sexxxy" and we are not about to argue with that.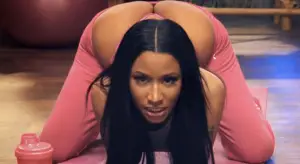 Track 05: "Feeling Myself"
Queen Beyonce features in this track and she pretty much owns it. The song is a 'feminist' anthem of sort, at least the way I heard it. The lyrics have been cleverly written and the best is very catchy. According to fan reviews this is one of the best songs in the album.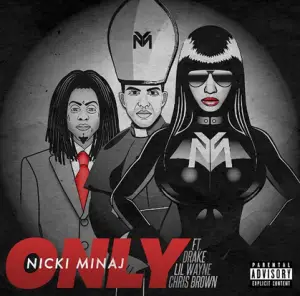 Track 06: "Only"
This is the third single from "The Pinkprint" and features Lil Wayne, Drake and Chris Brown (Young Money crew). Nicki Minaj spits out some strong verses in this track resting some rumors thrown at her.
Watch the "Only" Music Video by Nicki Minaj from "The Pinkprint"
Track 07: "Want Some More"
Nicki Minaj addresses some hate in this song. "Who had Eminem on the first album? Who had Kanye saying she a problem?". Nicki does some serious rapping, spitting out words faster than ever in "Want Some More". The song also speaks of her success despite the hate from the industry. 'Want some more' is more of a question to her critiques. Overall good lyrics in this song as well.
Track 08: "Four Door Aventador"
This is about paying homage to Biggie or Notorious B.I.G. (RIP) with this mixtape. "It's easy to forget the year with Minaj's gruff flow reminiscent of 90s NYC rap", says Billboard. We bow down to that description of this track.
Track 09: "Favorite"
This track featured Jeremih and speaks of a relationship where both partners are sort of engaged with other people. Nicki just wants to be someone's 'favorite'.
Track 10: "Buy A Heart"
Track 10 of "The Pinkprint" features Meek Mill. Meek Mill and Nicki does a perfect slowed down love song. Gotta love it!
Track 11: "Trini Dem Girls"
This is a dance track–fit for a club on a Saturday night. Nicki Minaj along with Lunchmoney Lewis brings out this fast paced dance tune, referring to the Trinidadian background of Nicki. Still, it's more of an equality anthem: "American girls run the planet, South African, European, Asian, Australian and my Canadian girls."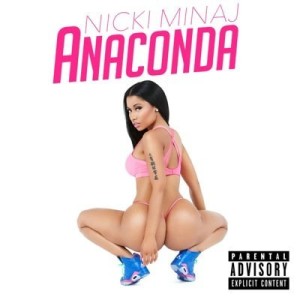 Track 12: "Anaconda"
This is probably the single that got "The Pinkprint" to the spotlight. "Anaconda" is filled is with innuendos, symbols, and of course Nicki Minaj in revealing dresses showcasing her 'goods'. Not my favorite track of the album, regarding lyrical value, but definitely does a lot to sex things up!
Watch "Anaconda" by Nicki Minaj from "The Pinkprint"
Track 13: "The Night Is Still Young"
A pop track–a dance track and is about partying like there's no tomorrow. There is 'the night is still young so make the best of it' kind of appeal to it. This is definitely another club track perfect for a Friday night.
Track 14: "Pills And Potions"
The first single off "The Pinkprint", and did a LOT to promote the album. The first single is always very important. It sets the tune to the whole album and gives out the tragectory of the upcoming album. In that sense "Pills and Potions" was a very successful first single. The song talks about the after-math. After all the pills and potions what is left to you? How do you cope with yourself? Love is the answer.
Track 15: "Bed Of Lies"
Talented Skylar Grey features in this track. This is another single off "The Pinkprint" and addresses her personal struggles in her love life. "Bed of Lies" is a pretty self-explanatory title. She believes her partner is a 'fraud'. She addresses rumors about her exes.
Buy Nicki Minaj's "The Pinkprint" on iTunes / Amazon
Track 16: "Grand Daddy"
Meek Mill features for the second time on "The Pinkprint".  "Grand Piano" is a classic love-hate relationship scenario. The partner plays Nicki Minaj like a Grand Piano, and all she can do is be played. She hates him, but she loves him. This is a never-ending struggle to find some solid ground (and never being able to). Again, one of the most emotional songs of the album. Great ballad to finish off the standard edition of "The Pinkprint".
[polldaddy poll=8537558]
So there you go! The full standard edition of the third studio album of Nicki Minaj fully unraveled. Nicki Minaj expressed that she wanted to do something different than her first two albums; "Pink Friday" (2010) and "Pink Friday: Roman Reloaded" (2012), and in my opinion she has succeeded. I wasn't a huge Nicki fan to be honest, but now I am. Reading the individual reviews of the album, I can see that this feeling is mutual.
What matters most is your opinion. Tell us what you think about the album, or any track of the album or about Nicki Minaj and her music in general. We would love to hear from you all. So comment below with your ideas.