For most artists, the bonus tracks are just songs that weren't quite good enough for their album. For Taylor Swift, it's just the opposite. It doesn't seem possible for Taylor to make a song that's "not quite good enough". Every song is always more than we ever expected. On the deluxe edition of her 5th album, "1989", Taylor included three bonus songs for our listening pleasure and they certainly didn't disappoint. The last song is titled "New Romantics" and I'm going to make a bold statement in saying that I believe Taylor made a mistake in not including this song on her original tracklist.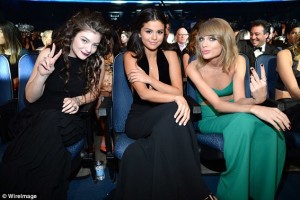 "New Romantics" Song Review
"New Romantics" gives us the sound that Taylor was aiming for in this album. It's a brilliant pop track with a perfect 80's sounding touch to it and it includes a great beat that fans can dance to. The song can best be described as Taylor's current anthem. It perfectly represents where she stands right now with her new approach on love and life.
There are so many lyrics in this song for fans to relate with and this is what makes it such a great anthem not only for Taylor, but for her fans as well. With lines like,
"Baby, we're the new romantics. Come on, come along with me. Heartbreak is the national anthem. We sing it proudly. We are too busy dancing to get knocked off our feet. Baby, we're the new romantics. The best people in life are free."
it exactly describes how Taylor feels about life right now. She has learned that she doesn't need to be with a guy to be happy. She just needs to be in love with life and keep her friends close. It's also saying that she is too busy enjoying her life to let anyone bring her down. "The best people in life are free" seems to be a shout-out to her friends. She's at a point in life where she is appreciating the relationships she doesn't have to work for. Her friends have her back no matter what and don't expect anything from her.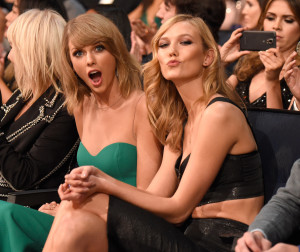 Who is Taylor Swift's "New Romantics" About?
As with any Taylor song, now comes the question of who "New Romantics" song was written for. It certainly sounds like a song for everyone, but fans believe it may have been written for Taylor's bestie, Selena Gomez. Of course, this is just a rumor, but you never know. Anyone who has been keeping up with Selena can definitely see the trials she has been going through in life. With the cruel rumors being thrown at her and dealing with her relationship problems, she's had it pretty rough. This song may have been written for Selena to help her get through them. "Cause baby, I could build a castle out of all the bricks they threw at me. And every day is like a battle, but every night with us is like a dream." Taylor could be trying to help Selena to look past the bricks being thrown and focus on her friends and the things that make her happy.
---
Buy Taylor Swift's "1989" Album on iTunes / Amazon
---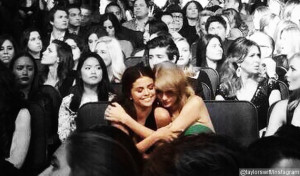 [polldaddy poll=8567603]
"New Romantics" is simply perfect all around and I cannot stress enough how badly it needed to be included as part of the album. It would have really brought the tracks together and given fans a genius song that they could all relate to and rock out together with. It's like the final puzzle piece that would have completed the album. Oh well. At least we were all lucky enough to receive it as a bonus track.
What do you make of the song? Vote above and comment below.