Ed Sheeran is the world's favorite ginger. He is friends with Courtney Cox as well. Ed Sheeran tweeted about the brand new song and Courtney Cox too promoted it in her Twitter giving credits to Ed Sheeran. They also appeared in the following picture, which looks quite adorable.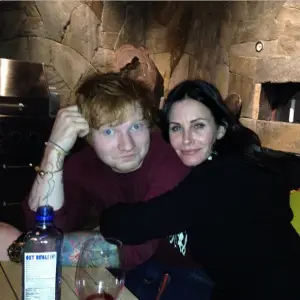 Ed Sheeran New Song Snippet on Cougar Town New Season
As promised the new track snippet was played in the background of "Full Grown Boy" which is episode 2 of the sixth season. By what we can hear in the snippet, it looks like an acoustic track from Eddie. We cannot wait for the full track. Listen to the snippet below.
https://www.youtube.com/watch?v=BJDlnNfFVVQ
The lyrics we can hear in the song goes as;
"We will drive until these tires wear out
And we will write all our memories down
And we will cry until this fire is drowned
Well, darling, I, I will keep you warm
Well, darling, I, I will keep you warm
Well, darling, I/ I will take you home."
The new track is pretty beautiful. Well everything Ed does, is. It screams Ed Sheeran all over it. All we hope is for the full track to be revealed soon. Knowing Ed's behavior, I have no doubt he will release it soon.
Ed Sheeran is also set to perform at the 57th Grammy Awards this year. Wonder if he would perform this untitled track at the Grammy stage? However this song sounds too mellow for a Grammy stage, but you never know.
Let us know what you think about the snippet of the new song. Love it? Of course we do.