Taylor Swift knows how to spend her free time in style. Last night (01/17/2015) Taylor had a little girls' night with her Victoria's Secret supermodels and some other close friends. Taylor Swift was spotted earlier that day doing some grocery shopping at Wholefoods, most likely in preparation to the cooking night that's been planned out. Taylor got a little help from Martha Hunt as well.
Taylor Swift and Martha Hunt Shopping at Wholefoods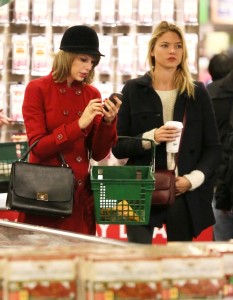 Taylor and VS angel Martha Hunt were spotted shopping at Wholefoods. Apparently there's a whole lot of pictures of Taylor looking at Avocados. I bet the dinner involved Avacados. LOL. The two superstars were closely followed by Taylor's personal security.
Taylor's Cooking Party with Martha and Karlie
We keep mentioning Martha Hunt and Karlie Kloss, but looks like there were few other friends involved in this little cooking fiesta. Ashley Avgnone, a stylist (Taylor's stylist?) and Tavi Gevinson, an editor at Rookie Magazine. So this is how the night went in their little dinner party. These pictures appeared on the Instagram profile of Taylor Swift.
http://instagram.com/p/x-hGXnDvI6
http://instagram.com/p/x-iIJLjvKh
http://instagram.com/p/x-jwnJjvNZ
What happened next was even more adorable. Martha Hunt shared this short clip on her Instagram account. Looks like Martha presented a bunch of cat stickers to Taylor and she put them on the back of her iPhone 6 Plus (Yes, there was a lot of concern about which mobile phone Taylor uses, so there you go). Martha Hunt made a pun saying "Now it's purrrrffect.." and the two girls burst into a laugh. LOL.
Did you like their cooking night? If so leave a comment. Share this with your friends.
EDIT:
New picture in… Things to notice– '1989' light sign and Meredith.