Fifth Harmony group is ready to take the next big step in music world–that is to release their own studio album. They have done some of the most amazing song covers I have heard and I have no doubts that the new album "Reflection" is going to be anything lesser. After their EP "Better Together", this will be their major music work. The "Reflection" album was previously announced to be released in November 2014. However the new release date is set to February 3, 2015.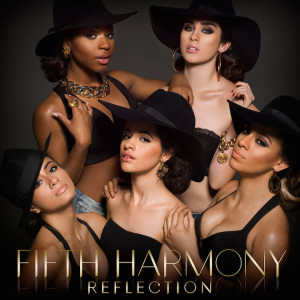 Tracklist of "Reflection" Album by Fifth Harmony
There are 14 tracks in total in the deluxe edition of the album (11 tracks in the standard edition).
Standard Edition
1. Top Down
2. BO$$
3. Sledgehammer
4. Worth It (feat. Kid Ink)
5. This Is How We Roll
6. Everlasting Love
7. Like Mariah (feat. Tyga)
8. Them Girls Be Like
9. Reflection
10. Suga Mama
11. We Know
Deluxe Edition
12. Going Nowhere
13. Body Rock
14. Brave Honest Beautiful (feat. Meghan Trainor)
There are some interesting collaborations in the new album by Fifth Harmony. We already got to listen to "Worth It" featuring Kid Ink, which is pretty hot! "Like Mariah" featuring voices of Tyga will be our next lookout. It's going to be good. Meghan Trainor features in the deluxe edition of "Reflection" with a track titled "Brave Honest Beautiful". I am pretty confident that it's going to be a female empowering anthem.
---
Pre-Order Fifth Harmony's upcoming album "Reflection" on iTunes /Amazon
---
Singles off of "Reflection" Album
So far two singles have been released off of "Reflection". First single "BO$$" was released as early as July 7, 2014, most likely when they were preparing for November 2014 release date. "BO$$" rose up tp #43 on Billboard Hot 100. Second single "Sledgehammer" was released on October 28, 2014, which shot to #40 on Billboard Hot 100. The latest promo track "Worth It" was released on January 20, 2015.
Watch the Music Video for "Sledgehammer" by Fifth Harmony
We believe "Reflections" will be a major debut album in 2015. The feel of the album is too good for it to be not successful. What are your opinions on the new album? Do you think Fifth Harmony has got what it takes to make it in the highly cut-throat music biz? Leave a comment below!