The day all hip hip/rap fans have been waiting has arrived. The official music video for the epic "Detroit Vs Everybody" track has dropped. There has been so much buzz about the audio track as well, and we were able to cover up most of it on our review of the song. The official track features epic lyric lines from Royce da 5'9, Big Sean, Danny Brown, Dej Loaf, Trick Trick and the Rap God himself. The track is 6 minutes long, and they deliver! After the official track was released, an official remix of "Detroit Vs Everybody" was released by Shady Records featuring talents of new underground rap artists!
Shady Records Releases "Detroit Vs Everybody" Music Video
Do you feel the chills?
[polldaddy poll=8604708]
The spitfire kicks off with the hook by Dej Loaf and the verses kick off with some epic lines from Royce da 5'9.  Throughout the entire "Detroit Vs Everybody" music video, we see different scenery of the Detroit city. I'm not sure if each rapper is presented in an area specific for them (in Detroit). Whichever the case is, this is a pretty epic video. You don't have to be from Detroit to fall in love with this track and the music video.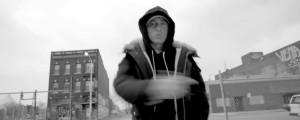 In fact, Eminem has the longest verse running up to 1 minute 38 (or so) seconds.
Trick Trick, AKA Godfather, finishes the 6 minute track with a strong send off.
"You either ridin' with us or gettin' rolled on.
That means Detroit vs. Everybody!"
We, at JustRandomThings, are pretty impressed with the video effort of "Detroit Vs Everybody" track and probably Royce and Em's parts sounded the best to us.
In the end (Trick Trick's part) we also get to see the full 16 artists who featured on the "Detroit Vs Everybody" official remix.
Trick Trick goes "Hey Em let me get that instrumental take it down to the hood, let the little homies get this remix crackin'".

Leave a comment about what you think about the music video, each MCs performances in the video and the video setup.