Looks like Taylor Swift is enjoying the last weeks of freedom before her '1989 World Tour' begins and everything goes crazy. Taylor was busy on Instagram a few hours ago, posting several pictures and an adorable video from her vacation to Maui, Hawaii. She is on a whale-watching trip with Haim sisters Alana, Danielle and Este. Taylor's pictures included them having fun at the beach, a hike, swimming in the ocean and whale-watching on a boat.
Taylor Swift Belly Button Makes an Appearance in Sexy Bikini
If we didn't know any better, we would say 'where'd all these models come from?' Take a look at these gorgeous ladies clad in bikinis.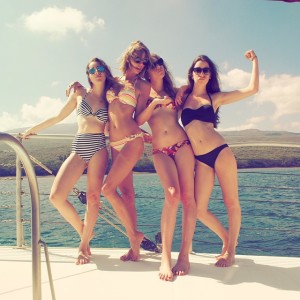 Taylor captioned this picture "Greetings from Maui".
Taylor Swift made a statement last year about how she will not commit to displaying her belly button on stage performances. But she did not say anything about showing her gorgeous body in a candid vacation picture. It's not about insecurities, it's about being 'appropriate' when it's necessary. Role-model Taylor Swift, indeed!
Apparently there are some gorgeous spots for a hike in Maui too. Taylor and her 'Squad' took this picture from their hike.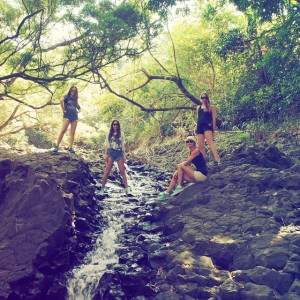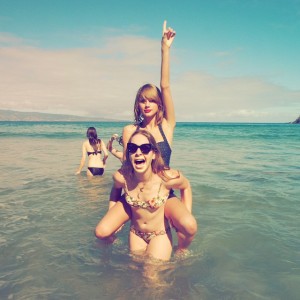 Taylor Swift captioned this "Este-back ride." Este Haim is strong, or is Taylor light weight?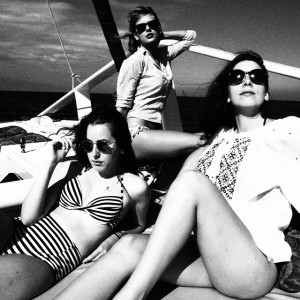 And then they see whales….
http://instagram.com/p/yN_1-sjvKF
Taylor is like a 5 year old discovering Ice cream for the first time. She screams "whale" "Whale" and "YES WHALE". LMAO.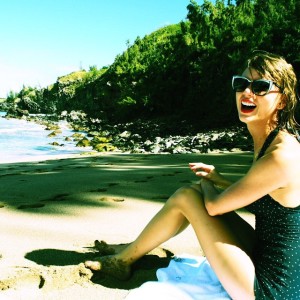 Apparently her friends teased her for this bathing suite. Taylor captioned this picture "She's always wearing, like, a 1950's bathing suit." Looks like some Haim sister pointed this out to Taylor and she's laughing!
That's a round up of the seemingly amazing vacation Taylor Swift and the Haim sisters had in Maui, Hawaii.
How many life goals did you think of going through these pictures? Let us know! And what do you think of Taylor's infamous belly button? Is she right to do what she does?