Taylor Swift is not performing on the 2015 Grammys, but we will still get to see her break the floor. She is literally not scared to bring out her most awkward dance moves at one of the most watched and grandest award ceremonies in the history. While she is being Taylor Swift, she has also inspired millions to be like her, live your life on your own rules and shake off the haters who stand in your way.
Clive Davis Pre-Grammy Gala happened few hours ago and the Internet is swarmed by pictures of fabulous celebrities in their gorgeous appearances and best behavior. A simple Google search on the above keywords will give you enough and more pictures on this event. Pre-Grammy party was basically an event for all the musicians to have a final dinner before the big day tomorrow. At one point of the night "Shake It Off" started playing and Taylor Swift just couldn't resist. She danced right there at the dinner table. LOL.
Taylor Swift Dances to "Shake It Off" at Pre-Grammy Party
Luckily, Brett Malec from EOnline was able to capture this adorable moment on his camera.
How adorable was that? This is just the beginning. Taylor Swift is warming up for the 3-4 hours of dancing tomorrow night at the Grammy Awards. I think it's HAIM sisters sitting beside Taylor, but I could be wrong. But Abigail Anderson is right by Taylor, and dancing it off with her BFF.
Later on Taylor Swift and all other celebrities took their moves to the dancing floor. Taylor Swift was spotted dancing with Haim sisters. Take a look at the pictures below.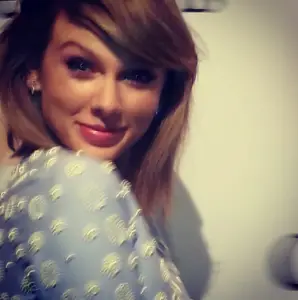 Leave a comment if you think Taylor Swift was adorable at the Pre-Grammy party dancing to her own music and beat. And let us know how excited you are for tomorrow's dancing session.