Big Sean's 'Dark Sky Paradise' album was nothing short of epicness. It contained some amazing songs like "Dark Sky", "I Don't F*ck" with You", "Win Some, Lose Some" and "One Man Can Change The World". And then comes "Blessings", the second track of the album and demonstrates some of the better lyrical and musical skills of the artist. The album version is all Big Sean, whereas the extended version has contributions from Drake and Kanye West-all eligible candidates to feature on a motivational song like "Blessings".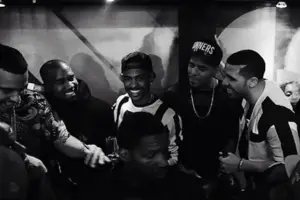 ---
Download "Blessings" Single on iTunes / Amazon
Download 'Dark Sky Paradise' Album on iTunes / Amazon
---
Listen to the "Blessings" track below and get ready for lyrics breakdown below.
Why does this song fall into the categories of a motivational song? Well, you will understand when you listen to the lyrics or read down our lyrics interpretation. In my personal experience, "Blessings" has given me the motivation to bite through the worldly crap when it seemed like too much. "Blessings" describes how better your life becomes when you conquer the mountain of troubles life puts in front of you. Without further ado let us take you through the lyrics of "Blessings".
Song Meaning, Lyrics Analysis and Interpretation of "Blessings" by Big Sean
The laid-back tune provides a tremendous support to the idea behind the song. It's like Big Sean is composing the song upon the luxuries he has worked hard for. There's no trouble or rush in the tone.
I live the life I deserve, blessed
Fuck a vacay I feel better at work
I mean whatever it's worth, I give whatever I'm worth
For my niggas who gon' go to Hell and back for me
I'mma give 'em Heaven on Earth
Or a hell of a check, yeah, whichever come first
Big Sean feels like he is enjoying the luxuries that he has earned. There were no shortcuts to his success. He had to work hard (10 to 10 as he once said) and he has come to a satisfactory level of comfort in life. He also believes he was blessed to have achieved all this. It is true though-you need some amount of luck to come to the top.
Big Sean feels better working on his dreams-as opposed to only dreaming his dreams during vacations. He rather work and work towards what he wants.
The singer also pays gratitude to his friends who have done so much for him to become who he is today. He says he treats them quite well-heaven on earth or a hell of a check whichever comes first.
Blessings on blessings on blessings
Look at my life, man, that's lessons on lessons on lessons
I treat the beat like it's a reverend
I tell the truth like father, forgive me, these are all my confessions
Big Sean talks about his life as being blessed. But blessings don't come to those who work 8 to 5 and sleep 10 hours. Blesses have to be earned. And that's why Big Sean says his life is a series of lessons-those who want to learn a chapter can go ahead.
The singer says he is not exaggerating anything in these lyrics. He is treating the verses like a Father doing his prayers. And here onward we hear the motivational confessions of a self-made rapper.
Man, this wasn't luck, it was destined
Big Sean is so confident in saying that his life was destined to be great. He says he did not have it easy. He made his own destiny.
I done lost homies who been with me since Ed, Edd n Eddy
Who flip like confetti
And then when you back, they back to call you "dog"
"Blessings" don't come easy. They come at a price too. Big Sean says he has lost his share of 'friends' who were there since 1999 (the first episode of Ed, Edd n Eddy). But that was no reason for Sean to deviate from his goals.
Some 'friends' come and go. They turn faces-like flipping confetti. The moment you turn your back towards them, they are ready to insult you. Life lesson: understand 'friends' like them and leave them behind in your journey. They only weigh you down.
That shit get-get petty, bitch, don't give no dap to me, nigga
Funny thing about talking behind my back
Is that it just keep coming back to me, nigga
Was off for a sec, now it's back to me, nigga, you mad at me
People who talk behind your back are not to be bothered about. They talk behind our backs because they are behind you-you are ahead of them.
This ain't what I want, man, this what it had to be

This is that late night working after three, man
This is why my old girl was mad at me
This why I'm your majesty, man
Big Sean had to work towards his goals-it may not be exactly what his peers wanted-but it is what he had to be.
Train to work towards your goals day and night. Nobody got rich working 8 to 5. Big Sean says his 3 AM working has finally paid off. And in doing so you may lose some dead weight-like Big Sean's ex girlfriend (Ashley French, his high-school girlfriend, maybe?). And all that has lead him to become the king.
The clique is the tightest, the pussy the tightest
The drinks are the coldest, the future the brightest
Blessings can come in many forms. A close-knit group of friends, female companions, food and drinks and a clear future path as well. And there's your motivational factors! Pick one or all.
The feat not divided, the love is divided
And I just gotta thank God that we got it
Blessed
I don't know what I would do without it
Crew look like we robbed a bank, but all we make is deposits
Your prophet will profit, oh God
Big Sean isn't worried about rich companions (other big artists to feature in his songs and such). However, Big Sean has openly expressed that he is more focused on spreading love than achievements and glitz and glamour at this stage. And he thanks God that he has been able to achieve them.
Big Sean again says that he is blessed and he wouldn't have made it out so far without it. His crew is so rich that they look like they just robbed a bank-but instead they only deposit money in banks.
You make your destiny-you are your own prophet-what you predict for yourself in life is what you will achieve in this life.
Drake joins Big Sean on the hook of "Blessings";
I'm here for a good time, not a long time, you know I
I haven't had a good time in a long time, you know I
I'm way up, I feel blessed
Way up, I feel blessed (Straight up)
I'm way up, I feel blessed (Straight up, straight up)
Way up, I feel blessed
The artist says he is here to enjoy the ride while it lasts. He is not looking at the end of the line. But whatever he can enjoy, he will do while it lasts.
He says he hasn't had a relaxing time in a long time since he has been working on his goals.
But he is way up in the echelons than anyone else. He feels blessed for his success.
Drake takes over the second verse of "Blessings";
Look, I ain't gon' say that we back or nothing
'Cause that implies that we're back from something
If we're back from somethin' there's some checks you owe us
I expect that payment, nothing less or over
The song meaning can be two fold here. Initially I deconstructed 'we' as a couple and it makes perfect sense. But in this motivational song, this can also be meant as being number one. Drake says he is not saying 'they are back!' with this single, because that would imply that they were away or not on the top. The last two lines could refer to the cash feuds with Birdman.
I don't need them favors that you ask me for
I could give two fucks 'bout where the Grammys go
I just gave out Grammys on my Instagram
Drake says he don't need no favors from anyone. He doesn't need Grammy's to get recognition-he is already a Grammy winner. He also held his own 'Hood Grammy' awards thing on his Instagram account.
Them OVO boys, the business man
It is what it is, trust me, you get what you give, yeah
You gotta come to my side and see how we live, yeah
I cannot see Heaven being much better than this, yeah
Besides a successful music career, Drake is also a businessman. He has a deal with OVO Stores, he is an ambassador for Toronto Raptors, and so on.
The singer says it's karma that has made him. 'What goes around comes back around' right? He invites us to come to his side to see the glitz and glamour of their lives. He compares his life with that of the heaven. I would have to agree.
Blessings on blessings for me and my niggas from the 6
Look at what we did, yeah
'6' is a reference to Drake's hometown Toronto, Ontario, Canada. 'View from the 6' remember?
Be quiet, I'm doing a toast
For niggas that don't really do shit, I swear, y'all be doing the most
Drake has the stage now. He is a mainstream artist and when he has a message to deliver, others do listen.
The haters are addressed as people who have nothing else to do. For them I would say, read this review and try to get a lesson or two out of it. Criticizing someone else's life will not get you anywhere.
Stop worrying 'bout whoever's next
I am just worried 'bout my mama worrying less
I think I'm famous enough, I don't need any more press
I am convinced I'm the only one left
That's still doing this shit, man
Drake is not worried about who's the next big thing after him. He has been king for so long that it feels like he is the only one in the rap game. He says he is famous enough. No more publicity can do him any good. He rather pay attention to his family and ensure their well-being than worry about his position in the game.
Big Sean gets in on the last verse of "Blessings",
My grandma just died, I'm the man of the house
So every morning I'm up 'cause I can't let them down, down
Always down for the cause, never down for the count
Drake grew up with his mother and grandmother. His grandma passed away in December 2014, and Drake has stepped up. These lines also mean that when she was alive, grandma was the prominent role in the house. When you have a family to run, you can't expect to sleep till 10 AM. Always motivated towards that cause and never backing down.
I guess when your stars align
You do like the solar system and plan it out
With some luck and destiny, everything can be accomplished. Plan it out and execute it until you reach for the goal. It's that simple.
So I'm going over time, on the overtime
Yeah, I'm that invested, but you can't attest it
Million dollar goals, managed to manifest it
Big Sean is invested in what he does. He adds overtime on the overtime hours when working. And that has enabled him to realize his million dollar goals.
The family never going anorexic
I pay mom mortgage and electric
And how does this success pay off? His family does not have to be hungry for the rest of their lives. He takes care of his mom-pays her bills and all.
Never going under even with anesthetics
At the top of the rap game and progressin'
Check after check, checking off my check list
And he is not going under again (referring to the rap game). He believes he is at the top and still continues to climb up. The money flows in.
Try and blow my cake, just know that's a death wish
Wordplay occurs in this line. 'Cake' is also a reference to Cocaine, and he says if you do blow cocaine, you're setting yourself towards your miserable death.
No mistakes in life ever, it's only lessons
Well, here's the life quote from "Blessings". Big Sean emphasizes that there are no mistakes in life-every step you fail is a lesson to be learnt and toughen yourself. Learn and grow-that's all about life.
Shit feel like Shaq and Penny got back together
You tore the game apart, who put it back together? I
Shaq and Anfernee "Penny" Hardaway are considered to be a good duo in NBA history. And with this "Blessings" track, Big Sean compared the NBA duo to himself and Drake. Big Sean points a finger at an unknown 'you' saying they killed the rap game and he put it back together.
There's a verse 4 where Kanye West does some lines on the the track, but it's not included in the album version, and I'm not going to break those lines.
It has been a long review of the song "Blessings", but I honestly feel like it's one of the better, motivating and lyrically appealing songs out there.
If you have a different opinion about any of the lyrics here, or about the meaning of the song as a whole, you can comment your ideas below and we will make it a discussion.
Also comment songs of reviews you would like to read on JustRandomThings.