Taylor Swift has been playing around with he 1989 track list for quite some time now. Dropping hints, releasing bits and pieces of lyrics, hosting 1989 Secret Sessions and what not. Up until now only two singles were released and we only knew the titles of those two singles. But somehow a Taylor Swift's 1989 traklist leak has happened. The 'alleged' list of tracks-the complete album track listing-was leaked on Twitter today. We emphasize on the word 'alleged' and 'leak' to tell you that no body is certain about the legitimacy of the tracklist as of now. Even Billboard.com reported of this leak and even they are yet to confirm the tracks.
Taylor Swift 1989 Tracklist Leak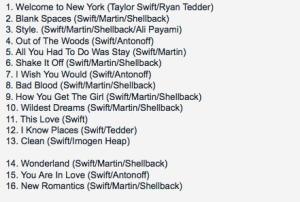 Legit or not the tracklist looks quite convincing. The 1989 album has 16 tracks and all the tracks are named in the leak including the lyricists who co-wrote each song. But that is no proof of legitimacy of the track listing since that information was released sometime back.
Nobody is sure as to how or who is responsible for the Taylor Swift 1989 tracklist leak. But two tracks on this leak were confirmed to Billboard.com by 1989 co-write Jack Antonoff. These confirmed two tracks are "I Wish You Would" and "You Are In Love". So that doesn't prove anything either.
Also in the recent Diet Coke Commercial of Taylor Swift we heard a background song playing and it went something like "And that's how it works, that's how you get the girl." And there's a track named "How You Get The Girl" on this alleged track list leak. So another point in favor of the rack list.
The above mentioned picture is the one circulating virally on Twitter right now. You can check out the leaks with the hashtag #1989tracklistleak
But then again there are other track listings circulation too-these are much less convincing.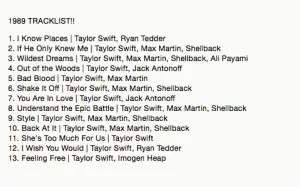 I'm not so sure if Taylor Swift will be happy to see this leak-specially with all her effort to keep this as intriguing as possible. Even if it is legit I don't think we will get a confirmation till the album release. Either way, the Taylor Swift 1989 tracklist leak we have right now looks pretty legit to me. What do you think?