Stalking is a real bad habit, unless you have a really good motive. Taylor Swift has admitted to stalking her fans online. Being stalked by a celebrity maybe like a dream come true for many people. Taylor Swift always has a die-hard fan base, who would be willing to do anything just to get a 'like' from her on their Instagram photo, a retweet or a simple comment. So Taylor Swift stalking her fans online is like a once in a lifetime thing for the fans.
LOL. The reasons for Taylor Swift stalking you is even better. We recently got to see the video she posted on the 1989 Secret Sessions. These were little parties she held in her house and a few other places to meet up fans and give them to listen the entire 1989 album, a month before it releases. So how were these fans picked? She stalked her fans online…
Taylor Swift admitted to stalking her fans in a recent interview she did with BBC America. She said;
"I would go online and look at their Instagrams pages or their Tumblr or their Twitter or whatever and just kinda watch them for months and months."
and then she said;
"Just sort of cyberstalk them,"
Just after the video got released many fans who were lucky enough to go on these little meetings with Taylor Swift, posted pictures they took with her. Most of these fans were picked from Instagram. There are like a couple thousand Instagram profile dedicated to Taylor Swift. It must have been difficult picking the handful of fans for 1989 Secret Sessions. The ones who got picked pretty much had an amazing day.
If you wish to see the pictures the fans took with Taylor go to her Instagram profile. Pretty much all of them are Polaroids…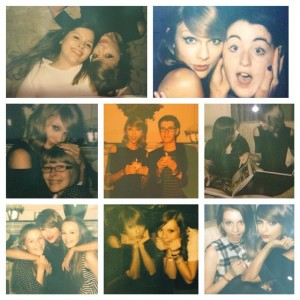 This is prof of Taylor Swift stalking benefiting you…