The whole world is wishing a happy birthday to a legend today (17/10/2014). So little people get to achieve the status of  'immortality' while they are on the top of their game. Eminem achieved immortality a long time back. However he is 42 years young today and Eminem fandoms are going crazy. Eminem's Birthday is being celebrated worldwide…
Eminem has the largest Facebook fan group- I'm Just Marshall Mathers, consisting over 141,000 fans as of today. This is a very active group on every other day as well. Today the group is going Bezerk. Thereis over a thousand posts wishing the Rap God. There are simple #HappyBirthdayEminem wishes to very creative articles, pictures and even videos. Here I bring you some of the best work published on the group. All credits goes to the respective people who uploaded the content on to the group.
Eminem Birthday Celebrations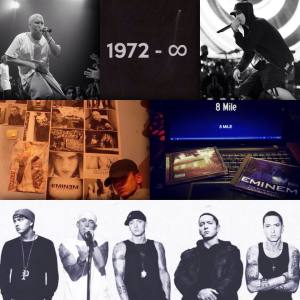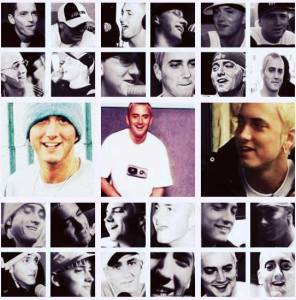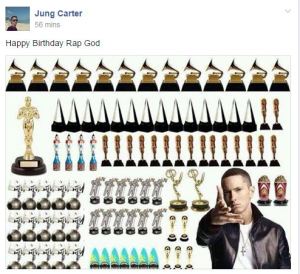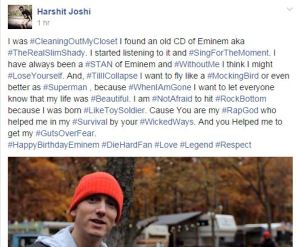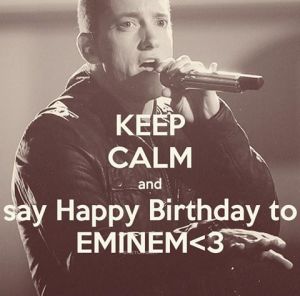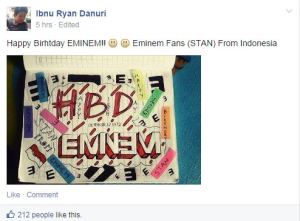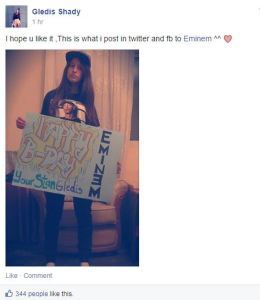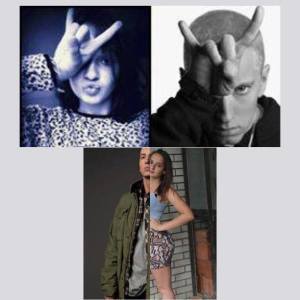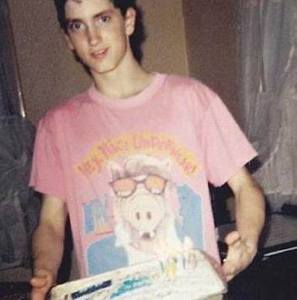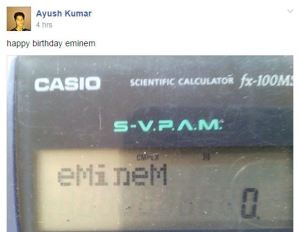 How creative is the last one?
There are simple wishes (a very large number of them) and there are some very creative and thoughtful ones as well.
Here is a collection of birthday wishes from Stans all over the world compiled to one video.
This is a 12 minute long epic compilation of birthday wishes from Stans from all over the world. Throughout the entire tribute video Eminem's songs are playing in the background. This is the most I've seen any fandom do to a rap artist. He deserves every bit of it.
Then there were so many heartfelt messages to Eminem by his fans. For an example this post by Ria Tana and then this epic message by Ciaran O'Donoghue.
I wont be online tomorow so im gonna do this shit now
Ive listened to eminem all my life
Literally when i was born i had headphones and a pen in 1 hand and an eminem album in the other
I joke
but in all seriousness i f*cking love this man to hell and back again
from infinite to MMPL2 and this amazing news of SHADYXV
i had a dark times in my life where friends turned on me i became a drug addict, eminem pulled me out the slump
anything that has ever happened to me resulted in me listening to eminem 24/7
i went to rehab and i could only bring 2 of my belongings.. i brought a stereo and the recovery album
so if i was gonna die of a drug related incident i wanted to die doing something i loved and that was listening to Eminem
i can relate to this man unlike any artist ive ever listened to
simply the G.O.A.T Rap god of all rap as we have ever known
Eminem > every other artist
i remember listening to "brain damage" in the back seat of my dads car when i was just 3 years old….all the way to jamming out MMPL2 in the front seat of the car
you can say im lying, and say im just looking for attention like every other stan….but this is true…everything i feel is true the first thing i think about in the morning is Eminem he's the first thing i see too because of the massive Slim shady poster in my room
from Foolish Pride To Guts over fear eminem has entertained millions of stans like me and all of you
im proud to be an admin of this amazing group to all the admins Samantha Stanette McLean Shailesh Chilkoti Vayun Soni Jen Baker Crystal Carroll Suyog Dahal Arjun Gulati
and to all of you amazing stans
this group have been through tough times yes
but im willing to tame the storm
for shady
Eminem you are immortal, Legends never die they are forever engraved on our minds
when you leave the rap game, Hip Hop for me is done once you hang up the mic ill hang up the headphones we've been through it together so we'll leave together, when you die so does hip hop
you songs have made us cry and taken us by suprise and at the same time made us dry our eyes
the parents may be pissed but we love it
we've been through it all together so when u leave rap
we go out together
for SHADY!!!
HAPPY F*CKING BIRTHDAY!!!!!!!!
One again wish you a very happy birthday B-Rabbit…
P.S. Eminem's birthday was not only celebrated on Facebook. The hashtag #HappyBirthdayEminem trended globally throughout the day along with #HappyBirthdayMarshall. You can follow the wishes on the specific hashtags.
Update: 17/10/2019
After 5 years since publishing the above article, we re-look at how things have changed when it comes to celebrating Eminem's birthday…
The group 'I'm Just Marshall Mathers' still continues to be the largest Stan group on Facebook consisting of 146,999 members as of today. Only a 5,000 member count increase over the last 5 years. However, still, countless birthday wishes are being posted on the group on this special day.
Gustavo Leichtweis posted an epic collage of pictures of Eminem to form the numbers 47 to celebrate the legend's 47th birthday this year.
Reevu Banerjee from Kolkata, India went on to pen a lengthy essay on Eminem's life story and how it is a story of true inspiration for anyone who wishes to learn a lesson. A few other Stans including Banerjee listed out the accomplishments of this white trailer park home boy achieved through his immortal career: "15 Grammy Awards, is the first hip-hop artist in history to win an Academy Award, is the best selling hip-hop artist in history, one of the best selling artists of all time with over 230 million records sold, is the most successful rapper in history with 49.1 million album sales, has 4 diamond-certified albums, is the 2nd best selling US artist in history, is one of the greatest things to happen to hip-hop and an inspiration to billions across the globe."
In a nutshell, wish you many happy returns of the day Eminem! Long live the God of Rap!
Update: 17/10/2020
One of the most Eminem-dedicated group of people on the Internet called 'ePro Team: Support for Eminem & Shady Records' posted this tribute video for Eminem's 48th birthday on October 17, 2020.