With just 4 days to go for the release of the new album Taylor Swift has finally decided to give up the oh-so secret 1989 full track list.  '1989' album comes out October 27, 2014 and the hype could not have been bigger. Already three singles of the album (Shake It Off, Out Of The Woods, Welcome To New York) has been released and most likely they will be all the singles of 1989 album.
Taylor Swift's 1989 Full Track List (Standard Edition)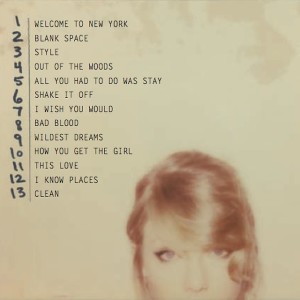 Welcome To New York
Blank Space
Style
Out Of The Woods
All You Had To Do Was Stay
Shake It Off
I Wish You Would
Bad Blood
Wildest Dreams
How You Get The Girl
This Love
I Know Places
Clean
How many of these names did you guess correct?
About a week ago an alleged list of '1989' tracks was leaked on Twitter. Here it is;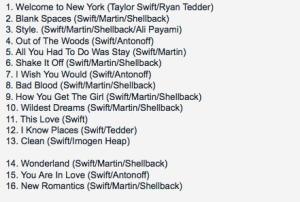 They are exactly the same!!! Who ever leaked the track list definitely had some inside information. The only difference is track 9 and track 10 are mixed up. All 13 tracks of the Standard edition of '1989' are confirmed as of now.
The deluxe edition of '1989' has three bonus tracks and Taylor did not reveal their names yet. The leaked track list says the track names are "Wonderland, You Are In Love, and New Romantics".  According to the accuracy it has displayed so far I think it is safe to assume that these tracks are accurate as well.
Pre-order/buy Taylor Swift's 1989 here: Amazon / iTunes