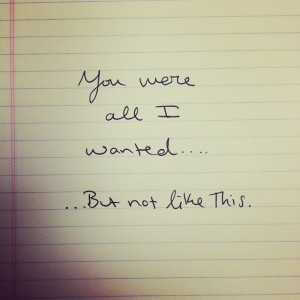 Track #05: All You Had To Do Was Stay
I know I have been saying this too often, but "All You Had To Do Was Stay" is yet another instant-favorite for me. Out of the first five songs I have reviewed so far only 'Welcome To New York' didn't make it to my insta-favorite list, but the more I listen to it, the more it grows on me.
"All You Had To Do Was Stay" is another classic one-sided love story. I love the carefree music in this track. A lot less popsynth, electronic drums and what not, which is a good change of scenery after 4 full tracks of them. This is yet again a POP song, as were all four songs before.
Taylor sings;
"

People like you always want back the love they gave away…"

 
This line straightaway rips out the harsh truth in the relationship. It is not a 'give her all you got' kind of love. In fact it is 'give me all you got' kind of love.
"

Stay
Hey, all you had to do was stay
Had me in the palm of your hand
Then, why'd you have to go and lock me out when I let you in
Stay, hey, now you say you want it back
But now it's just too late…"

 
This stanza pretty much summarizes the entire song. She sings that all you had to do was just hold on for one more day. But he had her in the palm of his hand and just when she opened up and let him in, he locked her out. But again he wants to get back with her, but it's already too late, because;
"But people like me are gone forever
When you say goodbye…"
People like me should refer to the sensitive and 'love from the bottom of their hearts' kind of people. And when these people are shut off, they are gone forever.
The lyrics on the picture goes like this;
Let me remind you this was what you wanted
You ended it
You were all I wanted
But not like this…"

 
It says that it's he who wanted out, he who locked her away, he who ended it all. For her, he was all she wanted, but not the person he has become. He is not the person she thought he was.
"All You Had To Do Was Stay" was produced by Max Martin, who produced the heavy popsynth tracks of 1989. But his trademark style has been quite reduced in this track. I love the music in this track anyway.
Lyrics Credits: MetroLyrics.com