Eminem and Shady Records revealed the official track list of the upcoming SHADYXV album a few hours ago. It is as epic as we were expecting it to be. SHADYXV is being released in celebration of 15 years (hence the XV) of Shady Records-the record label started by Eminem. There are some new tracks of Eminem and other artists under the Shady Records label, as well as some of older huge hits of them. Disc X (1) contains the new tracks where as Disc V (2) contains the old hits.
SHADYXV Track List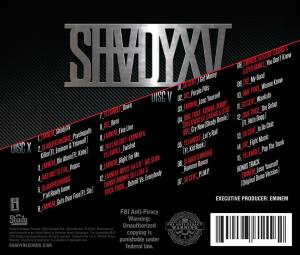 Pre-Order 'SHADYXV' on Amazon / iTunes
Disc X
1. Eminem – ShadyXV
2. Slaughterhouse – Psychopath Killer Ft. Eminem & Yelawolf
3. Eminem – Die Alone Ft. Kobe
4. Bad meets Evil – Vegas
5. Slaughterhouse- Y'all Ready Know
6. Eminem -Guts Over Fear Ft Sia
7. Yelawolf – Down
8. D12 – Bane
9. Eminem – Fine Line
10. Skyler Grey, Eminem & Yelawolf – Twisted
11. Eminem – Right For Me
12. Eminem, Royce Da 5'9, Big Sean, Danny Brown, DeJ loaf & Trick Trick – Detroit Vs Everybody
Disc V
1. 50 Cent – I Get Money
2. D12 – Purple Pills
3. Eminem – Lose Yourself
4. Obie Trice, Kuniva, Bobby Creekwater, Ca$his & Stat Quo – Cry Now (Shady Remix)
5. Yelawolf -Lets Roll Ft. Kid Rock
6. Slaughterhouse – Hammer Dance
7. 50 Cent – P.I.M.P
8. Eminem, 50 Cent, Ca$his & Lloyd Banks – You Don't Know
9. D12 – My Band
10. Obie Trice – Wanna Know
11. 50 Cent – Wanksta
12. Obe Trice – The Set Up Ft. Nate Dogg
13. 50 Cent – In Da Club
14. D12 – Fight Music
15. Yelawolf – Pop The Trunk
Bonus Track – Eminem – Lose Yourself (Original Demo Version)
Featured artists include Yelawolf, Obie Trice, 50 Cent, Slaughterhouse, D12, Skyler Grey, Bad Meets Evil, Royce Da 5'9, Big Sean, Danny Brown and a few more.
SHADYXV will also take us down the memory lane for some of the most influential and record breaking songs produced by these artists. "In Da Club" and "P.I.M.P" by 50 Cents, "Lose Yourself" by Eminem, "My Band" by D12 and more. This is going to be an epic mixtape.
The album also has 8 new tracks featuring Eminem, which is going to be great. We already know one of it "Guts Over Fear" featuring Sia. That song was of epic proportions. Can't wait for the other 7 tracks.
SHADYXV is scheduled to be launched on November 24, 2014…