Undoubtedly this is one of the the biggest years for Ed Sheeran. He released "X", his second studio album, and he has been nominated for award shows for ever since. Just today Ed Sheeran won another big award. "British Artist of the Year" by BBC Music Awards 2014. Think Ed deserved it? Yeah. Think it was an easy win? Don't forget Sam Smith and David Bowie. Sam Smith is having the biggest year of his career so far courtesy of his "In The Lonely Hour" album.
Buy Ed Sheeran's "X" album on Amazon / iTunes
Buy Sam Smith's "In The Lonely Hour" album on Amazon / iTunes
"In The Lonely Hour" is a really amazing album. If not for Ed, Sam Smith would have definitely bagged this award.
[polldaddy poll=8521396]
Ed Sheeran Takes an Adorable Selfie to Celebrate "British Artist of the Year" Award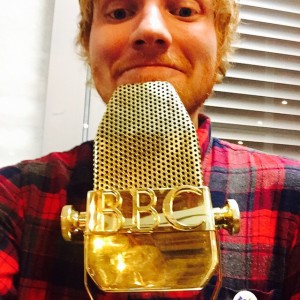 Ed Sheeran also performed his hit single "SING" live and acoustic at the BBC Music Awards show and it was everything Sheerios want.
Watch Ed Sheeran Perform "SING" at BBC Music Awards 2014
Everytime Ed Sheeran performs an acoustic version of a song (his or someone else's) with a guitar, it gives me chills. How he uses his guitar (not the strings alone) to produce music is very, very impressive. And look at his crowd control skills. Maybe he should do a full acoustic album!
This is what Ed Sheeran had to say after the victorious night:
"I always thought my career would top with one album. So, knowing that my career will be longer than one album is probably the highlight for me."
Career top with ONE album? Are you kidding me? Ed Sheeran is one of the top 5 most talented artists I know who belong to singer/songwriter category. Ed Sheeran will have a LONG career, trust me when I say that. Sheerios will be born and grown old with Eddie's music. 🙂
Ed Sheeran was halted backstage to perform another song:
Ed Sheeran Performs "Thinking Out Loud" Live at BBC Music Awards Backstage
That's what a true master of vocals can do! Keep it up and huge congratulations on the "British Artist of The Year" honor. Be prepared for many more to come.