From the very first moment I listened to "Blank Space", I knew it was going to be a special song. I haven't been able to get it out of my head after 5 weeks of it being released and apparently the world thinks so too. "Blank Space" has been at No 01 position in 'Billboard Hot 100' chart for 5 consecutive weeks. That is a huge deal when there are so many great songs competing just below her track.
"Blank Space" was on Billboard Hot 100 for 7 weeks and 5 of them as number one track. It is not easy making into the Billboard Hot 100 list. They calculate the popularity of each song every week based on three criteria;
Radio airplay impressions
Sales data
Streaming data
These three criteria factor into each weeks popularity measurement. "Blank Space" must be killing it on Radio over in all the countries. Sales data must be so high too, because there is very little streaming for Taylor Swift's songs on the Internet.
Taylor Swift Pulls out all her music from Spotify 
Billboard Hot 100 Chart for Week Ending December 27, 2014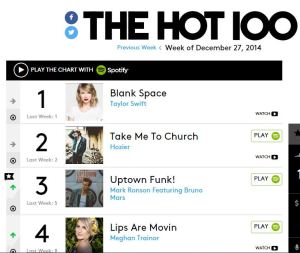 Spotify is the largest online music streaming site and Taylor Swift is there no more. So streaming wise "Blank Space" will not have an edge. But still to top the Billboard Hot 100 for 5 weeks, you can imagine how well it is performing in other two criteria.
Buy Taylor Swift's "Blank Space" on iTunes / Amazon
"1989" album overall has been the most successful album for Taylor Swift, all things considered. The first single off the album "Shake It Off" also spent a cool 4 weeks as the number one track on Billboard Hot 100, before it was dethrones by "Blank Space". So pretty much since "1989" came out, it has been absolutely dominating Billboard charts–even Top 200 charts as well.
Buy Taylor Swift's "Shake It Off" on iTunes / Amazon
Taylor Swift has been performing "Blank Space" and "Shake It Off" on several life shows, TV and radio which undoubtedly must have helped retain the top spot on Billboard charts.
Congratulations Taylor Swift!!!