J. Cole released his newest album "2014 Forest Hills Drive" on December 9, 2014. So just after a week being released to the public, "2014 Forest Hills Drive" debuts at No. 1 spot on Billboard 200 chart. Billboard said it was an "easy" decision, which makes sense considering the quality of this album.
J-Cole did not release any singles or promotional tracks or snippets for this album. He didn't even play around teasing with the news of the album. He Tweeted;
"What up? My New Album is finished. It's called 2014 Forest Hills Drive and it's very special to me. It's available everywhere on 12/9. This time I'm releasing no singles, just the album. See you in 3 weeks. Thank you for the love and support."
Direct, informative and no bullsh*t, just like the new album "2014 Forest Hills Drive". Without any promotion of any sort, J-Cole's third album sold 354,000 copies in the first week. This is tiny compared to Taylor Swift's "1989", but the circumstances couldn't be more contrasting.
Buy J-Cole's "2014 Forest Hills Drive" on iTunes / Amazon
This is the third album of the talented rapper and the third to top the Billboard charts. Speaks to how successful he has been from the beginning. This album, however, will be a ground-breaking success seeing the trend up to now.
The album was named after his home, 2014 Forest Hills Drive,  in North Carolina. And the album seems kind of personal to him. The album cover shows J. Cole sitting on the roof of his home.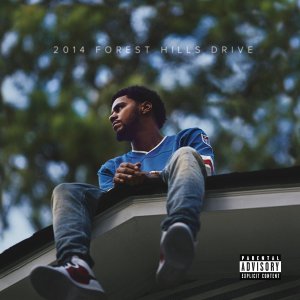 [polldaddy poll=8533869]
Full Track List of "2014 Forest Hills Drive"
1. Intro
2. January 28th
3. Wet Dreamz
4. '03 Adolescence
5. A Tale Of 2 Citiez
6. Fire Squad
7. St. Tropez
8. G.O.M.D
9. No Role Modelz
10. Hello
11. Apparently
12. Love Yourz
13. Note To Self
To purchase individual tracks visit Amazon.com
Listen to J. Cole's "Fire Squad" from "2014 Forest Hills Drive"
Tell us what you think about this album. What is your favorite track off the album? Comment below.