Earlier today we came to know that Taylor Swift has withdrawn her music album '1989' from Spotify.com–one of the largest music streaming websites. Spotify is a completely free music sharing site and has around 40 million users according to their data. This was definitely hurting Taylor's album sales, in a scenario where Tay is trying to make and break world records. So on her part, it can be justified as to why she removed '1989' album and all of its tracks from Spotify.
Spotify was hurt really bad from this decision by Taylor. According to them Taylor Swift and her new album '1989' are very hot topics these days:
"our more than 40 million users love her even more – nearly 16 million of them have played her songs in the last 30 days, and she's on over 19 million playlists."
So you can imagine the impact of Taylor's decision has on Spotify website. So in reply the music streaming giant made a very creative playlist to ask Taylor to reconsider about her decision.
Spotify Playlist Named "Come back, Taylor"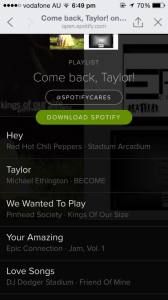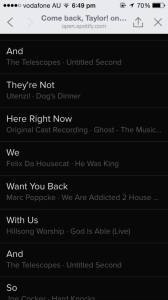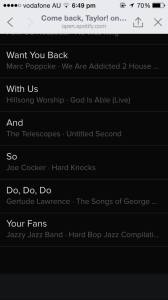 They created a very creative playlist using 15 songs from different artists. The song titles read out a message to Taylor Swift asking her to come back to Spotify and her fans miss her here.
The 15 titles read;
"Hey, Taylor, We Wanted To Play Your Amazing Love Songs And They Are Not Here Right Now. We Want You Back With Us And So Do, Do, Do Your Fans"
This is kind of heartbreaking too.
Don't Worry Spotify, She'll Be Back…
Taylor Swift is trying to break a world record. So it is quite important that at least some of her fans on Spotify go ahead and buy the new album and help her reach the world record. The 65 Polaroids and 1,989 goodies of the Swifstakes are all a part of her plan to reach this world record. This is all for just one week–the first week sales of the '1989' album. All mayhem will settle down after this Monday (11/4/2014), that is when her first week of sales for '1989' album ends.
So she will be back on Spotify.com (I strongly believe) after this Monday. Be patient Spotify, it's all for a good cause.
Taylor Swift will soon begin start releasing tickets for '1989 World Tour which begins in May 2015.