Another episode of VH1 Storytellers happened last night and it just blew the music industry away. The next-best-thing in the music industry-Ed Sheeran took to stage to give out a whole new level of live performance at a small bar in Dublin. It was a bundle of all kinds of feels throughout the show. First off, Ed Sheeran's voice, lyrics and acoustic guitar is quite enough to transport the listeners into a whole new dimension. Second off, Ed was speaking about different things about his life and his music, which is what VH1's Storyteller is all about.
So let us take you through the little little things that made it one of the most memorable nights to Ed Sheeran fans-Sheerios!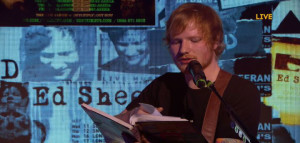 Who Inspired Ed Sheeran to Write his First Song?
Apparently Ed Sheeran's music career was inspired by another legendary artist. Let's get to that in a second. Ed Sheeran performed last night for VH1 Storytellers at a small bar in Dublin. The bar is named Whelan's Bar. It was jam-packed. So why this specific little place? Whelan's Bar is apparently it all began for Ed Sheeran as he sat down in the front row and watched Damien Rice perform! Yes, Damien Rice inspired Ed Sheeran to start writing music–which in my opinion is the best thing about his music, him as a songwriter.
 "This is where it all began for me, I came here a very very long time ago and I stood in the front row and I think the stage was a little bit raised and I watched Damien Rice play a concert. I then before had not written a song in my life, and I just thought you kind of needed to have like a 5-piece band to play anything and I saw this man (Damien Rice) on stage pour his heart out with just a guitar out and look up to him and 'that's what I wanna do'…
Ed Sheeran says this as the crown absolutely goes berserk.
Ed Sheeran Performs "The A Team" at VH1 Storytellers
Ed Sheeran kicked off VH1's "Storyteller" with his hit single "The A Team". He also gave a little insight into the makings of the song.
This is a quite touching story, and luckily enough the right songwriter got to experience it and eventually it turned into the amazing song that is "The A Team". Take a listen to his acoustic performance at VH1 Storytellers last night.
So beautiful…
He then went on to perform "I'm A Mess" and it's so damn beautiful! Check it out below.
It's quite nice to see the whole audience trying to keep up with Ed Sheeran. They all know the lyrics to all the songs he performed (and probably others he didn't perform), but it looked difficult to keep up with all the varieties Ed kept on bringing to his songs.
However the electrifying performance of "Don't" was probably the highlight of the night. Watch below.
So that was a night full of great music and great memories. Run down to the memories of Damien Rice was a refreshing twist for me and I hope it had been for you as well.
It is amazing how seemingly small things could transpire into bigger and better things. In the end it all turned out for the best. Ed Sheeran is a global superstar now, and he is just beginning.
Let us know what you think about Ed's performance at the VH1 Storytellers night? Want more of VH1 Storytellers episodes? Comment below.