Mark Ronson's collaboration with Bruno Mars, "Uptown Funk" is having a blast on the Billboard Hot 100 chart. This is the second week the smooth POP/Jazz track stays at the number one position. Last week, however, Taylor Swift's massive hit "Blank Space" was holding strong at number 2. But this week we can see Taylor Swift's best male buddy Ed Sheeran has beat her too. "Thinking Out Loud" currently holds the second position on the chart, pushing "Blank Space" to the third spot for the first time ever since it got on the Billboard Hot 100 chart 12 weeks ago.
Billboard Hot 100 Ranking for Week Ending January 31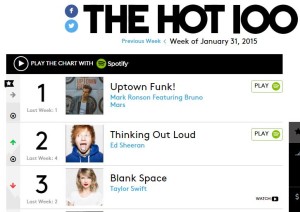 If you are a hardcore Swifties and is worried about this, don't. This is the nature of everything. Everything that goes up, must come down. Even "Uptown Funk" will come down one day and it may not be very far away. Taylor Swift announced the third single from '1989' album to be "Style", so there's another chart-topping single right there.
Taylor Swift's "Shake It Off" showed an upward movement over the past week, being the biggest online 'streaming gainer'. It jumped four spots from #9 to #5.
Hozier's amazing "Take Me To Church" single is at #4 and shows a downward trend.
Meghan Trainor on Billboard Hot 100 and 200 Charts
Meghan Trainor's latest album "Title" released a week ago and the album shot to Billboard Hot 200's top position dethroning "1989" by Taylor Swift. However the singles off of "Title" doesn't seem to be performing that well. The main single "Lips Are Movin'" only managed to peak at #4 on Billboard Hot 100 chart. Again there is a high chance that "1989" will come back to number one spot after "Style" releases a a single.
And that is the roundup of the Billboard charts for the week. What do you think about these movements on the Billboard charts? Do they reflect an accurate story of the real world? Leave a comment and let everyone know.