To the shock of most of us, Taylor Swift has pulled some brilliant strategy with her social media accounts. Taylor Swift is (or rather was) one of the most followed, liked and subscribed artists of our time, and suddenly everything has gone blank. As in, all of her official social media accounts are now a clean slate.
Her Facebook page was deleted altogether with all of the content in it. She has a new FB page which has only 800K likes. The original page had over a 70 million likes. All her other social media handles suffered a similar fate. Her Instagram posts were deleted and all whom she followed were unfollowed. Her 102 million followers on Instagram still remain intact though.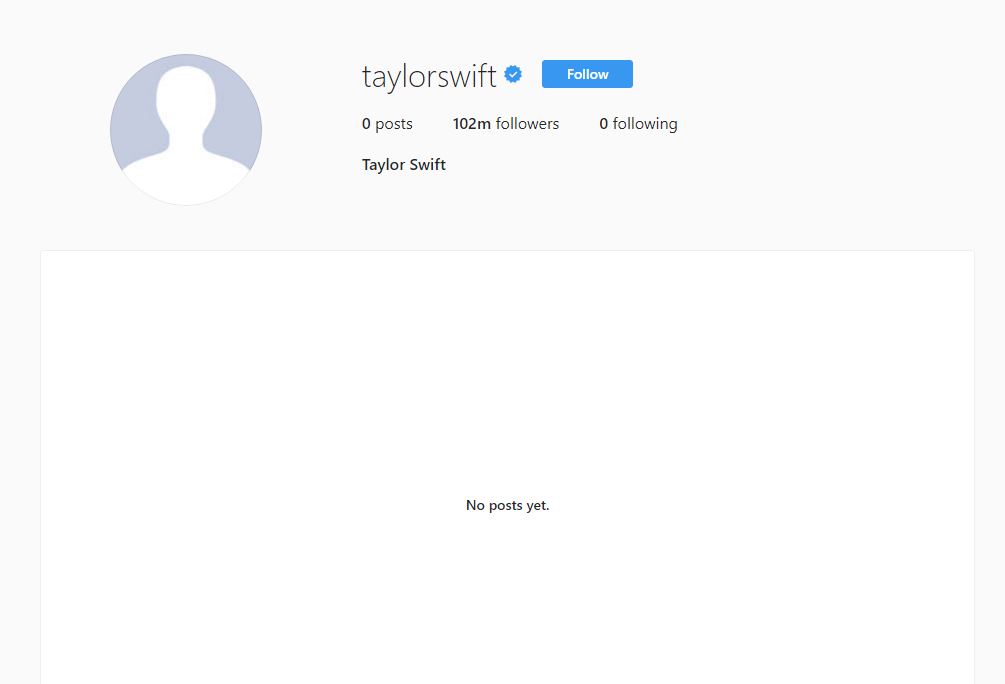 The same fate lies with her Twitter account, where 85.4 million followers are just staring at a blank profile without even a profile picture. Taylor Swift's fan interaction point was Tumblr and it has been wiped off as well.
Why Would Taylor Wipe Off Her Social Media Handles?
Building a social media presence is a difficult task. For someone as famous as Taylor Swift, it would take almost no time to build an overnight social media presence. So in a way she knows that no matter how many times she deletes any of her social media handles, she can get back in the race overnight.
So, it is our opinion that this was a very deliberate and strategic move by the ever-so business minded Taylor Swift.
It is in Taylor's nature to do something radical closer to an album release. Before '1989' release, Taylor teased the fans with posters, hidden messages, clues and what not about the singles and the album. She held secret parties where she would invite Swifties and let them listen to the '1989' album. She is one for theatrics. And these theatrics create so much hype in the industry.
A recent Google search report showed that within the past week, i.e. since deletion of all content from her social media accounts, the search queries for the term 'Taylor Swift' had risen by over 150% over the past months. And that is exactly what Taylor would have wanted. Free viral marketing. And she's got it.
Taylor Swift's 2017 Album Coming Up?
One don't create hype about them for no reason. Taylor Swift is a brilliant marketer. All the hype created for '1989' album , made it the best selling album in over 10 years. And we have a gut feeling that this is going to be bigger.
Now that she has created enough hype about her, we believe she is going to cash in. We believe that she will be dropping hints, clues or even a surprise single sooner than later on her social media. Whatever appears like that will have so much impact on the industry that everybody will be talking about it. At least her hundreds of millions of fans and followers and subscribers will make sure to do that.
According to Taylor Swift's contract with Big Machine Records, she has one more album to deliver under their label and this is going to be it. Taylor has released an album every two years since 2006. From self titled debut in 2006 to 'Fearless' in 2008, 'Speak Now' in 2010, 'Red' in 2012 and '1989' in 2014. By her standards, the album is one year overdue. But Taylor Swift herself said that she will not release an album unless she is confident that it is better than everything else she has done before. With all of that concerned, we have another gut feeling that the 2017 album is going to be different to everything before we had.
Taylor Swift deleting all posts from all her social media handles is symbolic. She is getting rid of the past and starting anew. We believe it symbolizes her career. If it is so, this is going to be huge. '1989' was a surprise as it turned out to be completely Pop from an accomplished Country singer. So whatever album Taylor is working on in 2017, is going to be different from all of them. If so, the hype would have been worth it.
[polldaddy poll=9812725]
Whatever the reason behind this move, we believe that Taylor Swift has a very good plan in mind. Her careers moves are planned to the dot-just like the release of all of her albums on Spotify on the same exact date as Katy Perry's new album release-okay, maybe personal moves as well. Either way, we are sure that Taylor's camp is cooking something good and fans are about get served. And it is going to be delicious no matter what.
P.S:
The Only Social Media that Contains Taylor Swift's Work
Only one of her social media handles are left intact as far as we know. Her YouTube channel has not lost a single video off of it. We cannot assume any specific reason for this move besides the fact that her new plans do not involve YouTube right away. Any guesses? Comments section is open for you.
Until Taylor makes her next move, let us watch an ironic "Blank Space" performance from her YouTube channel.