In abundance of concerts, from Boston Calling to The Biggest Weekend 2018, the artists are making live appearances everywhere. BBC Radio 1's annual event 'The Biggest Weekend' unfolded last night to a record crowd of 60,000 at Singleton Park in Swansea. Some of the major acts in the music industry performed their biggest hits on 26th and 27th nights.
The Biggest Weekend 2018 was glorified with over 35 hottest artists in the buzz right now, and they all performed their biggest songs and raved the crowds.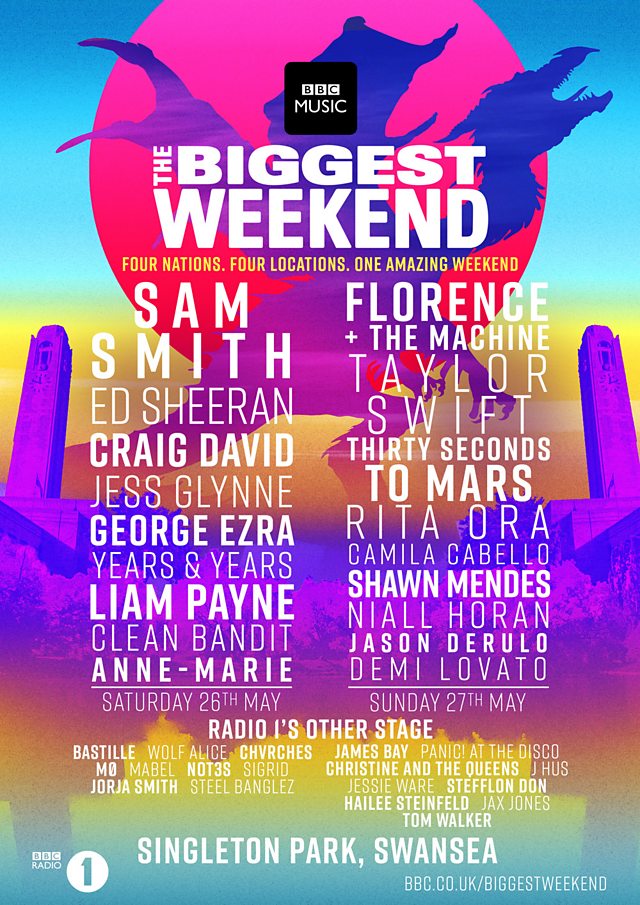 Watch below the best performances from the two nights.
Taylor Swift – Gorgeous
https://www.youtube.com/watch?v=evuN50o_q68
Before the song, Taylor Swift addressed the crowd saying it's her first time in Swansea, and this was met by a loud cheer. "It kind of took my breath away," added Taylor Swift, about the energy of the crowd singing along to the songs.
"You all look a level above beautiful," said Taylor to the crowd. "What's the word for something more than beautiful?," she added paving the way to the song "Gorgeous."
During the performance of the song, she gave a shout out to all her backup dancers who were on stage. "And I'm Taylor," she added waving at the crowd. These all were met by massive cheers from the crowd. Talk about an entertainer!
 Camila Cabello – Havanna
Camila and her whole dance crew appeared in full black clothing and Camila did a bit of Salsa with a backup dancer during the live act. However, the lack of Young Thug's verses was felt.
Shawn Mendes and James Bay – Mercy
https://www.youtube.com/watch?v=p_zvX8bcn2w
Shawn Mendes started off with a solemn and an acoustic rendition of his biggest hit "Mercy" and James Bay joined with another acoustic guitar.
After James Bay took his leave from the stage, Shawn Mendes went on to perform "In My Blood."
https://www.youtube.com/watch?v=Bm0ZPwAP2qY
Hailie Steinfeld – Let Me Go
Hailie has been establishing herself as a musician and this is her biggest hit yet. Herself and the backup dancers break danced to the EDM song.
Demi Lovato – Sorry Not Sorry
https://www.youtube.com/watch?v=5kWkGZs2nrg
This performance included a row of backup dancers who did nothing but clap and chill at the back of the stage. There should be a story behind that.
Niall Horan – Slow Hands
https://www.youtube.com/watch?v=7qWVzvAIftU
The ex-1D member performed his solo hit "Slow Hands" and the crowd seemed to be singing along to every word.
Liam Payne – Familiar (The Biggest Weekend)
https://www.youtube.com/watch?v=kqxqmpkUx5E
Ed Sheeran – Castle on the Hill and Shape Of You
The greatest thing about Ed Sheeran's performances is that he setups his music on stage. Even at The Biggest Weekend in Swansea, we saw him prepare the beats and tune live on stage before he started "Shape Of You."
The world's most talented ginger appeared with his usual acoustic guitar with the "Divide" sticker on it and stunned the crowd.
The crowds sang both the songs in unison along with Ed Sheeran.
Again, we saw Ed Sheeran setup his loop pedal for the music of "Castle on the Hill."
Jess Glynne – I'll Be There
Sigrid – High Five
One of the best and sweetest performances from The Biggest Weekend night below.
https://www.youtube.com/watch?v=1oEAqziy0M4
Anne Marie – 2002
Clean Bandit – Solo
Missed not having the original singer-Demi Lovato on this live performance. However, the singer did well to live up to Demi's hype.
Sam Smith – Too Good At Goodbyes
Sam Smith never ever disappoints.
https://www.youtube.com/watch?v=mPHgBNHcCsQ
He also performed another single "Midnight Train."
https://www.youtube.com/watch?v=-5ohJy_k8S0
Sam Smith performed the third track "Pray" to a stunned crowd.
https://www.youtube.com/watch?v=Xyf3-eh2ZMU
Luis Fonsi – Despacito
Luis Fonsi performed his record-breaking hit "Despacito" solo, accompanied by some sexy backup dancers.
Panic! At the Disco – Victorious
Jax Jones Ft. Raye – You Don't Know Me
Florence + The Machine – Hunger
https://www.youtube.com/watch?v=_W2x8oktLi0
James Bay – Us
James Bay came back on stage to perform his hit single.
https://www.youtube.com/watch?v=TMIyrDt9DOU
Jax Jones Joined with Demi Lovato and Stefflon Don to Perform "Instructions"
This performance was joined by Rio de Janeiro festival-themed dancers.
https://www.youtube.com/watch?v=v5EX_GR9YjA
Rita Ora – Girls
George Ezra – Shotgun
We have covered some of the hottest performances from The Biggest Weekend 2018. But there are a few more amazing acts left, which you can check out on their YouTube channel.
Let us know what you think about these live performances and comment below your personal favorite.
UPDATE
Jason Derulo – Want To Want Me