There is little natural about this first-ever collaboration between Kanye West and Lil Pump. The new song and video for "I Love It" feels like watching an insanely hilarious comic flick. The video, directed by Kanye West and Amanda Adelson, looks even funnier when you pay attention to little details.
The music video for "I Love It" was premiered at the inaugural P*rnhub Awards on September 06, 2018. Kanye West was the co-creative director of the event. How he managed to gain such a position was following an interview Yeezy had with Jimmy Kimmel. On August 10, Kanye appeared on Jimmy Kimmel Live and confessed that he is an avid lover and user of P*rnhub, even after having his daughter North West. Thrilled by this news, P*rnhub reached out to Kanye West on Twitter and offered him a lifetime premium membership.
On August 19, 2018, Kanye West and Kim K attended 2Chainz's wedding dressed in undersized slides.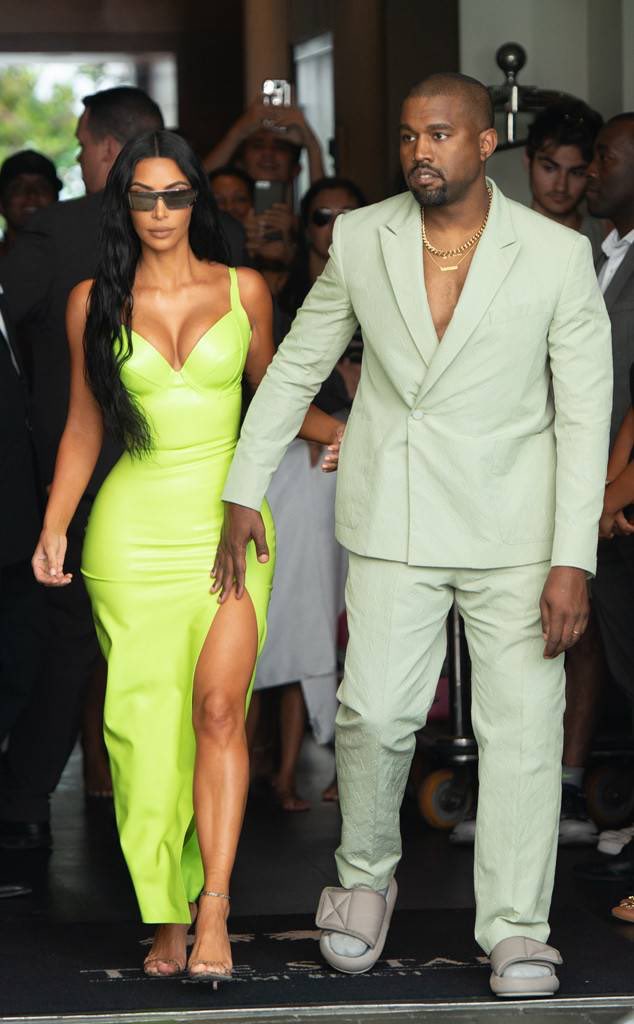 To this, the Internet made fun of him and he responded with extremely oversized slides. These slides ended up in this new music video.
https://twitter.com/kanyewest/status/1035306309678129152
This joke turned out to be the inspiration behind this hilarious "I Love It" music video.
Watch "I Love It" Video by Kanye West and Lil Pump
Adele Given makes a cameo in the music video as an oversized human being, whom Kanye and Pump look up to and fears.
Lyrics Review and Song Meaning of "I Love It"
(Warning: explicit lyrics ahead)
Bridge
Adele speaks about how the adult video industry or even feminism has evolved over the years. She talks about the past when women were not allowed to speak as they wish and their needs, sexual and otherwise, were often neglected. They had to fake their 0rgasms to keep their men happy. But now, the times have changed and the industry has changed. Women can voice their needs and they can demand satisfaction-sexual or otherwise.
Chorus
These lyrics by Lil Pump are a continuous repetition of his adoration for these adult video actresses.
Verse 1
Lil Pump speaks about his sexual escapades in London. He confesses that he got it on with a girl, and either her cousin or her sister.
Lil Pump is known for his ignorant behavior. He mispronounced lyrics on his own song "Elementary."
Lil Pump, then, goes on to talk about his diamonds (ice) and girls doing cocaine ("take lines.")
Interlude
Kanye's bouncy figure starts to vocalize now.
Kanye West talks about how the adult video industry has made all these actresses famous. He uses an example of 'sparkling water' vs 'still water.' Yeezy says none of these actresses knew the difference between sparkling or still water when they first arrived in the industry. So he implies them not to pretend to be high class now.
Pre-verse
In these lyrics, Kanye admits that he is not quite right or 'normal' in his head. He is known to have controversial thoughts like his avid support of Donald Trump, his claims of slavery being a choice, his avid love for P0rnhub, and in "XTCY," Ye claims that he would have sex with his sister-in-laws Khloe Kardashian, Kourtney Kardashian, Kendall Jenner, and Kylie Jenner.
Verse 2
Kanye West gets even more explicit in these lyrics of "I Love It."
He talks about buying his wife, Kim Kardashian, a Benz G Series SUV because he loves getting orally pleasured.
In the next lines, Kanye may be talking about the figure of Kim Kardashian, who has a knack for walking in public without underwear. "Nip-tuck" is a cosmetic surgery done to correct any change in the body, even nipples.
Kanye confesses, again, that he is sick in the head for shouting out loud these lyrics. But much like Lil Pump, Yeezy does not care.
Despite the very explicit and disturbing lyrics, Kanye's new creative track "I Love It" is hard to ignore. It's catchy and its trap.
Let us know what you think about this new song and the video in the comments below. If you like this article, do leave a rating below and share this article with your 18+ friends.
Read complete lyrics to "I Love It" by Kanye West and Lil Pump on Genius.