R. Kelly broke the musical silence with a 19-minute epic rap titled "I Admit" that would have been perfect if not for it's theme. In this 8-verse ballad R. Kelly admits to many of his sins and allegations thrown at him throughout the years. Most fans are not happy about the lyrics of this track.
The most shocking accusation of all would be that R. Kelly leads a cult of women–where Kelly is believed to be keeping hostage of 6 women in several of his houses and controls all aspects of their lives–including what they eat, what they wear, when they sleep and how they have sex with him. "I Admit" does not seem to be confessing on this regard.
The song "I Admit" was released in July 2018 and shocked the entire industry as Kelly is heard talking about several sexual misconducts–even with minors.
The famed R n B singer was also charged with 14 counts of child pornography charges in 2008 and the court case dragged on for 6 years. However, the "Ignition (Remix)" singer, seems to be refuting these claims as he raps "not convicted, not arrested, dragged my name in the dirt. All this work to be successful, when you abandon me 'cause of what you heard."
Listen to "I Admit" by R. Kelly
Releasing the track, R. Kelly went on social media to caption it "Today is the day you've been waiting for." May be the singer felt relieved unloading all of this guilt and stress out to the world.
Lyrics Review and Song Meaning of "I Admit" by R. Kelly
Verse 1
Kelly kick starts this 19-minute epic by confessing that he has done some mistakes in his life. The next 8 verses are dedicated to the singer unloading his weight off of his chest in the form of lyrics.
In the first verse, Kelly starts off mildly. He admits that he had trouble focusing at school due to his dyslexia. This might have contributed to him missing classes and eventually dropping out of school. He also admits that he was never a popular kid, nor he had many friends.
Years and years of legal battles have left R. Kelly battered and wounded. Billboard created a timeline of R. Kelly's legal battles which dates back to 1994 and until 2017. This article states the details of his assaults, domestic acts of violence, paedophilia charges, women's cult allegations and defaulting compensation payments. All of these have had a toll on the singer and he confesses that he feels like retiring from music altogether.
R. Kelly calls himself a 'gift and a curse.' R. Kelly, being one of the best-selling singers of this era, seems to be quite over the edge in his personal life.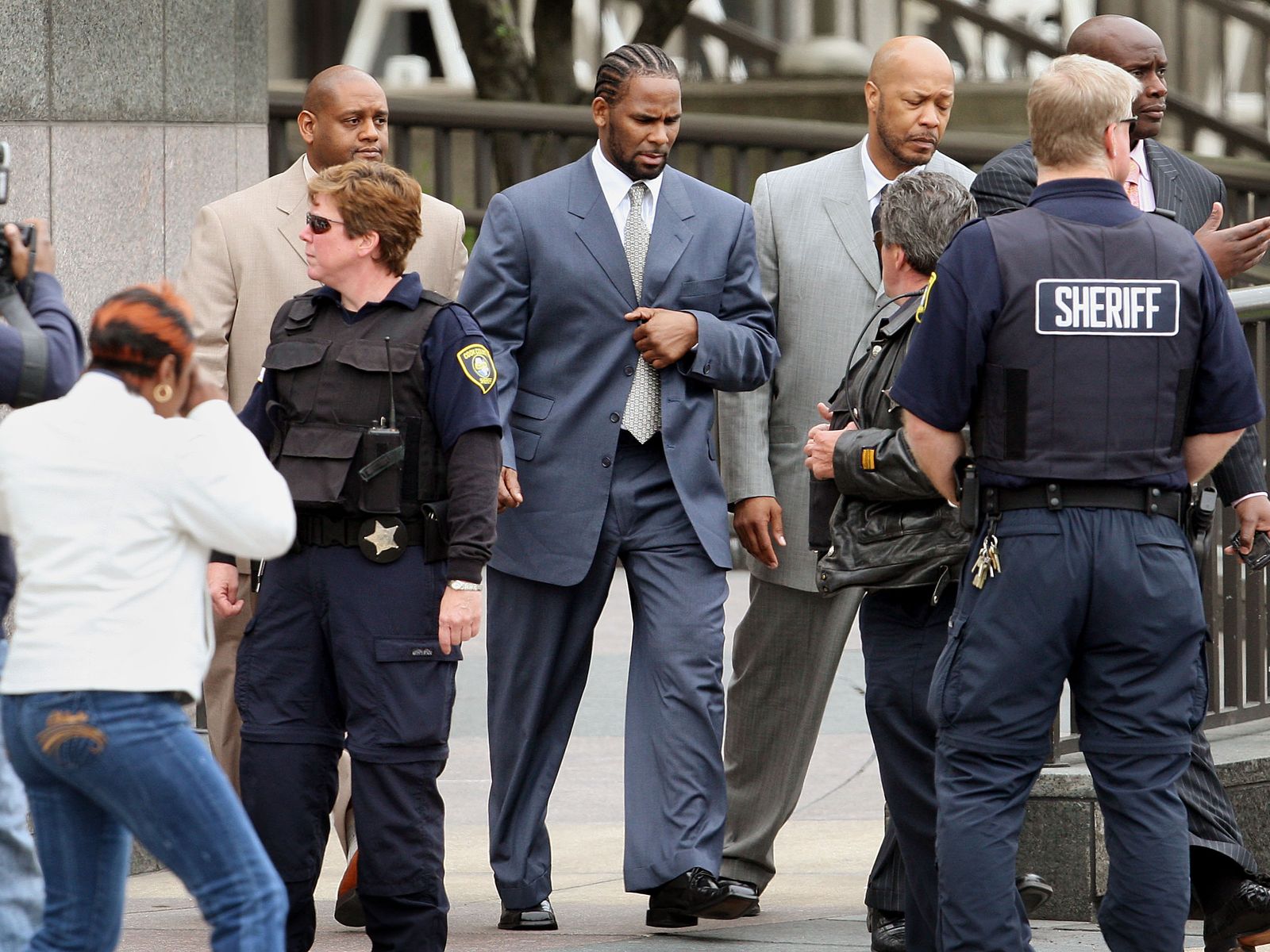 Verse 2
In the second verse of "I Admit," R. Kelly continues his lament starting off by saying he is flawed. He then goes on to speak about the mountains of lies he has told many women to trick them into sex. The singer also admits to excessive partying, boozing and smoking. He also builds on him dropping school, reiterating that he is illiterate and "can't spell for shit."
Kelly loves God, but in the first verse, he confessed to not attending church. His erratic lifestyle of sex and money made his mother crying over him. This is probably what hits the singer the hardest as he says "What else can a nigga say?"
R. Kelly also reflects on one specific night he stayed at the hotel Ritz. That night he had sex with the girl of one of his friends. In the next line, Kelly admits to having sex with girlfriend's bestfriend. He also reveals that the latter incident happened in the back seat of his Mercedes Benz.
Verse 3
In the third verse of "I Admit," R. Kelly tries to justify his misconducts. He talks about how countless managers have screwed him over record deals and his shows being cancelled. One such incident is where his performance at the University of Illinois got cancelled after hundreds of students and teachers petitioned for his act to be dropped from the concert.
The singer also accuses his lawyers of making him confess to mistakes and pay compensation for crimes he did not commit. The crime he believes he committed was having "some girlfriends," for which he believes the punishment is too harsh and judgmental.
R. Kelly talks about his temptations with drugs. All the negativity, hate and accusations made him turn to drugs as a mean of a temporary escape. He calls 'temptation' the devil.
[crowdsignal poll=10206827]
Verse 4
The tonality of "I Admit" changes in the fourth verse.
In these lyrics, R. Kelly talks about his struggles growing up. He was shot in the shoulder at the age of eleven and this has prompted him to toughen up and be a man. His mother-Joanne passed away in 1993 due to a cancer, when R. Kelly was 26-years-old.
According to Kelly, all these fake allegations and interruptions to his music has broken his bank. His managers and lawyers have thieved him of his money. But R. Kelly believes that he still has his fans, which he finds to be a true blessing.
Even after the release of "I Admit," a flock of fans have gathered around Kelly in support.
Verse 5
In the fifth verse of "I Admit," R. Kelly talks about his accusations of paedophelia. He admits that he has engaged sexually with a lot of women-both older and younger. However, he is quite adamant about being labelled as a 'paedophile.' According to Wikipedia, 'pedophilia' is the sexual attraction towards pubescent children of age below 13. It is unclear if Kelly is arguing on a technicality of the age here. However, any underage girl, below the age of consent, in many countries being the age of 18, would be considered illegal to have sexual relationships with by law.
R. Kelly is tormented that just because people have a belief that he is a sexual offender, he was forced into an almost-retirement from music.
Kelly touches on the #MuteRKelly movement spreading across the US in an attempt to take off R. Kelly's music from streaming platforms after these allegations surfaced. But Kelly comes down on them hard saying that only God can be his judge and only God can mute him.
R. Kelly also brings up some of his most influential song titles in "I Admit." He reminds everybody that he is still the person who produced "12 Play," "Bump N Grind" and "When A Woman's Fed Up" in the 90s.
The singer also recalls a conversation he had with Wendy Williams, in which, the superstar allegedly confessed to all of his accusations with her. The full report can be seen below.
In August 1994, R. Kelly married the upcoming artist Aaliyah at a secret function. Kelly was 27 and Aaliyah was 15 at the time and she produced fake birth certificates to prove she was 18 at the time of marriage. The marriage was annulled later after finding the hoax birth certificate.
R. Kelly calls himself a "broke ass legend." At one point in time in music history, Kelly was poised to be one of the greatest. However, all these scandals surrounding his personal life led to the destruction of his musical career. Now he does tours just to pay his rent.
He truly laments on the fact that he is currently labelled as the 'most disrespected artist' in the music history. And that is the reason for him to write "I Admit." This song is his attempt at setting things straight.
Verse 6
R. Kelly digs deep into his personal archives in these lyrics. He talks about the sexual abuse that he suffered from a close family member during his childhood. In Kelly's autobiography he states;
"I tried to push her away, but she wouldn't stop until she was finished. When she was, she said, "You better not say shit to no one or else you gonna get a terrible whupping.""

R. Kelly/The Soulacoaster
In this 6th verse, Kelly also talks about the accusations of sex cults that he has created with young women who are brainwashed and held in house arrest. Kelly strongly disputes these claims and narrates of a story of a girl who was dropped at his concert and he admits that he did touch her. He also strongly states that she was not underage and she also felt him. He nudges it as "just some shit that come with being a celebrity."
Kelly next iterates the stories of Jocelyn Savage and Azriel Clary–whose parents have put their daughters, underage, in contact with R. Kelly, under parental supervision, to further their music careers. Rumours are that Kelly managed to meet these girls in secret and cut them off their families entirely.
Verse 7
In the seventh verse of "I Admit," R. Kelly disputes the claims raised against him for running a cult. He admits that he may have had too many girlfriends, but he strongly disputes to having brainwashed the girls and having strict rules on them. However, Jerhonda Pace, an alleged member of Kelly's cult came out and spoke about this cult where Kelly held underage women. Pace claims that she was 15 when Kelly had sex with her.
R. Kelly says that he is not a monster to have abused women. He says that he does love to keep the women entertained in bed. If the girls are into it, he says he will call them dirty names, talk dirty, spank and pull their hair. All in good intentions.
Kelly tries to draw a comparison of him with Playboy creator Hugh Hefner. Kelly says that when he passed away n September 2017, he was also surrounded with dozens of beautiful young women. But people always love him. Kelly questions, why he is being targetted for doing the same thing?
Next "I Admit" talks about how Kelly has been driven to the ground because of all these costly allegations. He is at a point in life where he had to sell his cars, homes and could not even get a bank loan. According to WealthyGorilla, R. Kelly's net worth has slipped from $150 million a few years back to $1 million in 2019.
Verse 8
In the final verse of this 19-minute extravaganza "I Admit," Kelly says he has not lost hope. He still believes in his fans and the true MVP's who have had his back since day one. He strongly points out that his personal life has nothing to do with his music and his career should not suffer because of it. It hurts him bad that "assumptions" made by people cost him his entire career.
R. Kelly ends the track with a strong statement: "I done lived my voice and represented my country for 31 fuckin' years."
It would be a shame to witness the end of R. Kelly due to 'allegations.' However, running back to the age-old proverb "there's no smoke without fire," it is too difficult to completely set aside all these 'assumptions.'
Should an artist's personal life interfere with his musical career? Especially, considering how music is quite personal to the artist? Let us know in the comments below.
Complete Lyrics to "I Admit" by R. Kelly