Beyoncé and Jay-Z are two of the most famous artists in the world. And one would not be wrong to say that they are one of the biggest power couples in the industry. Despite being life partners, they have collaborated a handful of times throughout their career, and "Drunk in Love" is one of their best works to date.
"Drunk in Love" was released as a lead single off of Beyonce's self-titled fifth studio album in December 2013. Most critics reviewed the song as a more sexualized follow-up track to their previous collaboration "Crazy in Love" from 2003.
The song reached #2 on Billboard Hot 100 chart and broke the top 10 in many countries including the UK, New Zealand, and South Africa. It also sold over 3 million copies in the USA alone. However, its biggest accomplishment is receiving two awards at the 57th Grammy Awards for 'Best R&B Song' and 'Best R&B Performance.' The music video for the song won 'Best Collaboration' at the 2014 MTV Video Music Awards.
"Drunk in Love" talks about Beyonce and Jay-Z being completely intoxicated in love. By the time of the release of this song, they were married for over five years. So, their love was genuinely still intact at the time of writing this song. In an interview, Beyonce recalled the writing process of the song; "I kind of freestyled the verse, and Jay went in and he started flowing out his verse – we just kinda had a party. It was so great, because it wasn't about any ego, we weren't trying to make a hit record. we were just having fun. and I think you can hear that in the record."
The lyrics to the song received mixed reviews. Some considered the lyrics to be a confession of their over-sexualized married life. Others, like TheGuardian, picked apart some lyrics, especially by Jay-Z to be borderline fringing on domestic abuse and rape.
Watch "Drunk in Love" Video by Beyonce Ft. Jay-Z
"Drunk in Love" Lyrics Meaning and Song Review
Verse 1
Beyonce gets right to the point. She talks about how she enjoys an alcoholic beverage and how the buzz gets her thinking. She thinks about him, her husband, the business mogul, and music producer-Jay-Z. And she wants him then and there.
And as much as Beyonce admires him, so does he. She knows she can't keep her hands off of him and she knows that he cannot keep his eyes and hands off of her "fatty" curves. Beyonce is undoubtedly one of the sexiest women in the music industry.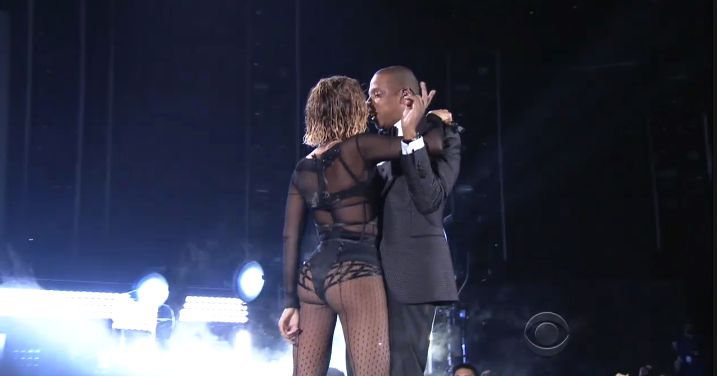 Pre-chorus
Beyonce talks about waking up in her kitchen after a night of fun at the club and remembering nothing after. She has suffered a blackout induced by heavy consumption of alcohol.
These lyrics also came under fire by some critics for their sexist nature as to women's role in the kitchen. However, it also symbolizes the power of women shifting between their roles as a lover, caretaker, wife, and as a professional. The lyrics allude that no aspect of life has to be compromised for the other, and it can work in a healthy relationship.
Chorus
The chorus of "Drunk in Love" is a mere dedication to their sexual congress all night long. It's sweet, wild, enduring, and energetic.
Verse 2
In the second verse by Beyonce, she contrasts their wealthy lifestyle with the dirty plays of sex. She sings how her expensive Louis Vuitton sheets are soaked in their sweat and reducing them to mere washrags. She also mentions luxury champagne brands like Armand de Brignac to add to the luxurious and exotic vibe.
Beyonce also drops (maybe her favorite) sex position 'Surfboard' which involves filling the bathtub halfway and sitting on top of her man in the tub. The motions make it look like she is surfing on waves.
Beyonce also quickly mentions her life under the limelight. Beyonce has been a celebrity ever since her Destiny's Child days. And she has never been out of the spotlight even to date. In the first verse of the song, she did brush off on the same topic saying that she feels like an animal in captivity where the paparazzi keeps on photographing her nonstop. However, the "animal" is a clever link to her sexual ferocity too, aligning with the theme of the song.
Watch Beyonce Perform "Drunk in Love" Live
Verse 3
In the third verse of the song, husband Jay-Z joins on the vocals. He brings in many more luxurious references to the song to elevate the song to another level. He name drops D'USSÉ cognac, Warhol paintings, and G3, G4, G5, and G6 private jets.
Regardless of the expensive things surrounding him, Jay-Z's attention is on Beyonce. And his appreciation of her love and body is not hindered by these objects. He is even willing to let the expensive Warhol paintings get ruined (don't ask how) in the course of their sexual activities.
The latter part of the verse talks about Tina Turner and her abusive relationship with husband Ike Turner. In 1993, Tina Turner released a film based on her life, named 'What's Love Got to Do With It,' in which a scene shows Ike Turner trying to force Tina to eat some cake when she clearly doesn't want to. Ike calls Tina by her birth name, Anna Mae, and shoves the cake in her face, which breaks into a physical confrontation between the two. This reference in the song and comparing himself to Ike Turner landed Jay-Z in some hot waters.
Despite controversies and backlashes, "Drunk in Love" is one of the best dedications to love and sex. Let us hear what you think about this song in the comments below. Check out the complete lyrics on Genius.