Since the release of the cryptic snake video on Facebook and Twitter, the fandom has been exploding with rumors and tweets and gossip and what not. Everyone is speculating the release of something along with the Solar Eclipse that is happening today. The fandom has somehow got the incorrect spelling "TS6iscomimng" hashtag trending on Twitter as a result of all of this.
Amongst all this noise, what seems like a very plausible tracklist has been released from an unknown source and is making rounds on Twitter. The alleged 6th album tracklist of Taylor Swift contains 14 songs and one of them features Katy Perry.
Take a Look at the Alleged TS6 Album Tracklist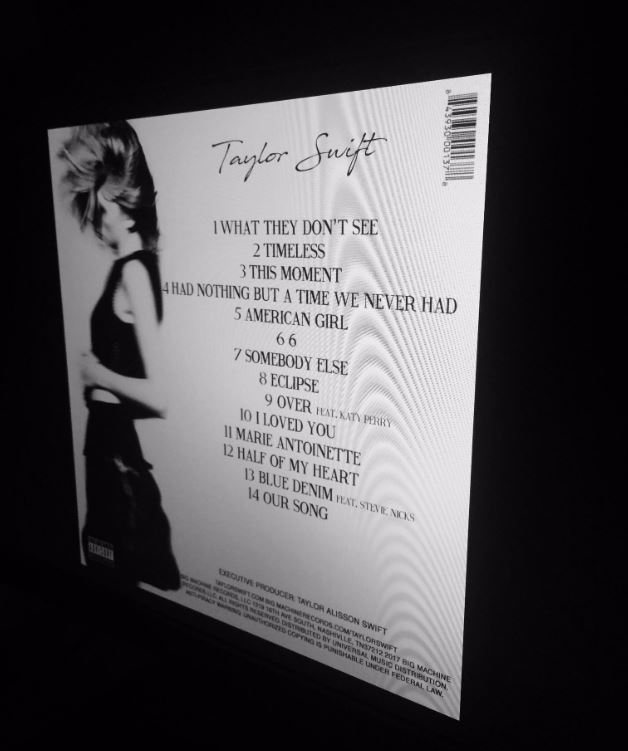 There is a website in development titled 'Timeless.com' and Genius.com mentions that this is a new song by Taylor Swift. If an entire website is dedicated to a song, could it be the title of the new 2017 album by Taylor Swift?
The tracklist of the album is as follows;
What They Don't See




2.

Timeless




3. This Moment




4. Had Nothing But A Time We Never Had




5. American Girl


6. 6


7. Somebody Else




8. Eclipse




9. Over

 Ft. Katy Perry


10. I Loved You




11. Marie Antoinette




12. Half of My Heart




13. Blue Denim




14. Our Song
Do you think this could be the new Taylor Swift album track list? Leave your comment below.
Update: The solar eclipse is passing away and still no release of "Eclipse" single.
Update: 25/08/2017
As announced the new 6th album of Taylor Swift will be titled 'Reputation' and the first single from the album "Look What You Made Me Do" is out now.
There are 15 tracks on the album as per iTunes and Amazon and LWYMMD is the 6th song on the track list.
We will be updating the real track list right here for your reference.
There is no new of bonus tracks or a deluxe edition of the 'Reputation' album, but we will be on the lookout.
Promotional single "…Ready For It?" was released on September 03, 2017.
Second single "Gorgeous" is released on October 20, 2017.
Third single "Call It What You Want" is released on November 02, 2017.