The first track on Travis Scott's latest album 'AstroWorld' is in perfect sync with the theme of the album. Travis released a trailer for the album, which included a lot of space stuff and also previewed the song "Stargazing." The beat, tune, and at-times auto-tuned vocals of Travis suites well to the theme of the album.
"Stargazing" is the second most talked-about track on the album after "SICKO MODE."
ASTROWORLD 🌎🚀🌎
8/3/18https://t.co/srwCzNelW7

— TRAVIS SCOTT (@trvisXX) July 30, 2018
The whole idea behind "Stargazing" is that Travis is taking a psychedelic trip through outer space or what he imagines to be outer space. This could be due to several things. 1. Travis is high on drugs and they are making him hallucinate about this made up world. 2. Travis could actually be stargazing-looking at the stars in the night sky. 3. He could be seriously paced out thinking about something out of the world.
The song starts off pop and turns into trance and goes further into trance before it revives back to hip-hop in the last verse. Likewise, even Travis seems to be tying up several topics in the song, as he talks about rolling up, going crazy, Ellen, a girl who saved his life, and his music.
Listen to "Stargazing" by Travis Scott
---
Download "Stargazing" Song on iTunes and Amazon
Buy 'AstroWorld' Album on iTunes and Amazon
---
"Stargazing" is delivered in two parts and the division occurs in the music-the shift from trance to hip-hop.
The lyrics consist of many references to drugs, so, proceed with caution.
Lyrics Review and Song Meaning of "Stargazing"
Chorus
The song starts off with the chorus and jumps right into this 'high' Travis keeps talking about throughout the song. "Rolling" is usually a reference to being so high on drugs or weeds that you cannot make sense of the physical world around you. A state of trippiness, which has derived from being unable to walk without falling down. So, either Scott is so high on something and floating away in a dreamy world or he is rolling on the grass and looking at the stars!
'Purp' is a subtle reference to Purple Drank AKA 'lean' which is codeine/promethazine cough syrup mixed in with some sprite (source: Urban Dictionary). 'Barre Baby' has two references here. Most likely, it could be referencing to 'Barre Pharmaceuticals' who produced the codeine/promethazine cough syrup first in the world. On another angle, it could be a reference to Big Moe's song "Barre Baby." Big Moe is from Houston, same area which Travis is from.
Travis continues to speak about these drugs which gave him a high when he was feeling down.
Drugs have become a package deal in the music industry, where a lot of artists have sacrificed their careers and lives for it.
Post-Chorus
These lyrics of "Stargazing" speak of the salvation of Travis Scott from the epidemic of drugs. He talks about being high on the drug 'lean' and how he was saved by a girl. This girl could be either his wife Kylie Jenner or their newborn baby Stormi.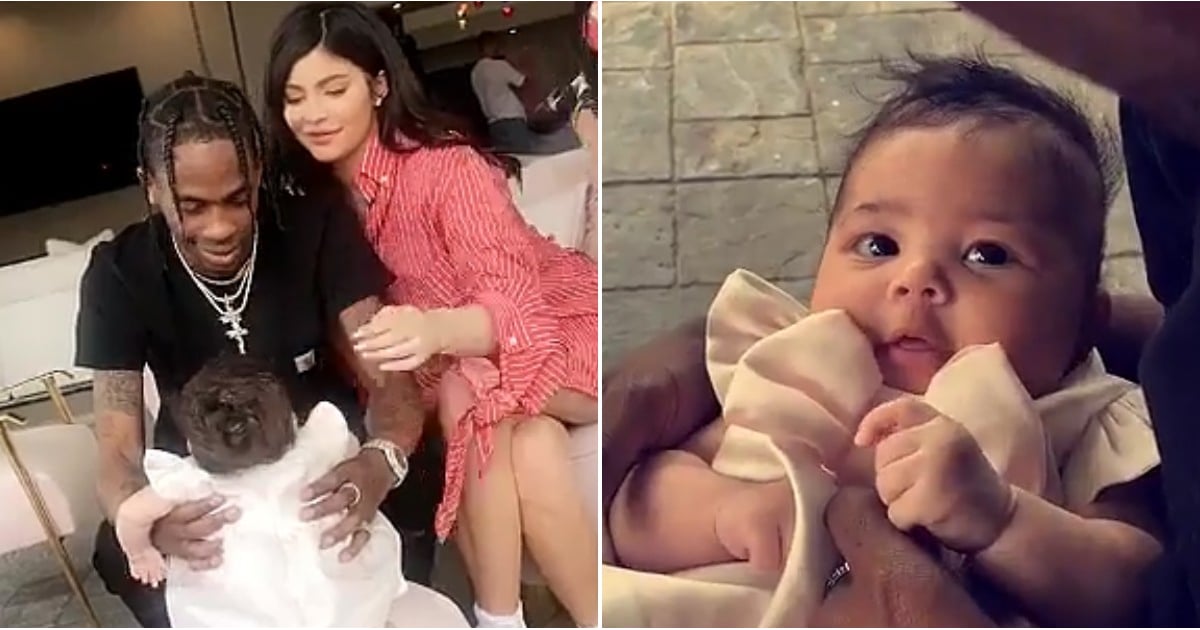 It is not hard to imagine how either of these two ladies could have put him on the right path.
Travis also speaks about turning into religion as he gets down on knees and prays towards the sky. Is this what he means by "Stargazing?"
[polldaddy poll=10072964]
Verse 1
In these lyrics, Travis gives a shout out to the women in the music game. Nicki Minaj, Cardi B, Iggy, Young M.A and more have made it big in the industry, despite the hip-hop game being labeled as predominantly male owned.
The next line, however, has Travis questioning the intellect of these new class of rappers. Are they just overnight blown-up dolls or real artists?
Then Travis speaks about his success and puts himself on the level of Ellen DeGeneres. Recently, Travis Scott performed his single "goosebumps" on the Ellen show. However, he has to get rid of jealous haters with 'propane' gas. He also adds a sentence about the hectic life of touring days.
The tune changes drastically for the second verse of "Stargazing."
Verse 2
Travis prepares to reveal some things from his life. He tried to suppress these feeling with the heavy intake of the drugs, but these thoughts just would not subside.
Travis talks about his past, which he calls a 'traumatizing' experience. In an interview with Complex magazine Travis explained his childhood growing in the hood:
"Growing up, my grandmother stayed in the hood so I seen random crazy sh*t. Mad bums and crazy spazzed out motherf*ckers, I saw people looking weird, hungry, and grimey. I was always like, 'I gotta get the f*ck out this sh*t.' It gave me my edge"
Travis Scott also speaks about the 'AstroWorld' Six Flags amusement park that was shut down in Houston-his hometown. In April 2018, Kylie Jenner rented the entire theme park to throw Travis a surprise birthday party. This, he calls, bringing back the theme park to the hood even for a night. This likely would have been the inspiration behind the album title 'AstroWorld,' and the album artwork.
Travis was awarded the key to Houston Suburb, Missouri City, one of the highest honors a person can achieve.
Scott speaks quite highly of Kylie Jenner calling her 'baby mama' and a 'trophy.' And he shouts out to the $900 million empire Kylie Jenner has built off of her cosmetics enterprise. He talks about their sex life-how she keeps him happy while playing on words giving a reference to the legendary novel 'Moby-Dick' by Herman Miller.
Travis has come a long way since the 'hood' days and some people try to undermine him. He has reached a definite pinnacle of success through adversities that seemed 'improbable' to some.
"Stargazing" has left us questioning the real idea behind the song. It certainly has a trippy undertone, but looking at the second verse, we question if he really was. Let us know what you think about the song, lyrics and the music in the track.
Full Lyrics to "Stargazing" by Travis Scott